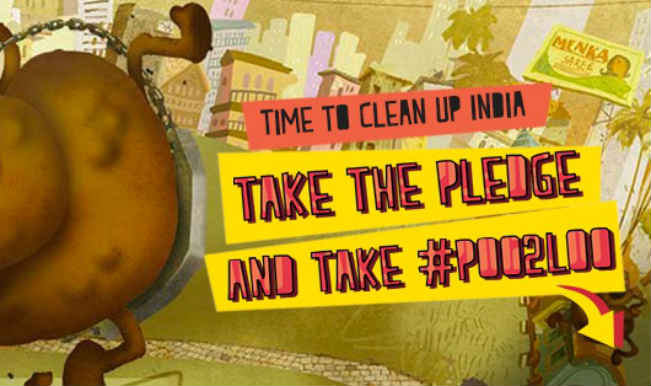 Enough of Shit! proclaims UNICEF website to the sanitary imperilment.
Public defecation is a serious havoc in India. If the stats are to be believed provided by the campaign, 620 million Indians defecate in the open. That is a staggering amount of people who dump over 65 million kilos of poo. The statistics regarding poop is as ugly as the situation is !
While the stench is spreading threatening diseases and epidemics, all we do is scrunch up our nose and walk away.
The water safety is being compromised by defecating in the open leading to microbial contamination risk.Seven states in India namely Orissa, Meghalaya ,Chhattisgarh ,Jharkhand, Assam, Uttar Pradesh and Bihar account for almost 50% of (13.8 million)children who don't have access to toilet facilities in schools.
UNICEF has tied up with many partners like NGO Protsahan, toilet cleaner brand Domex and Indian Institute of Technology for the campaign. The campaign is projected across Hyderabad, New Delhi, Mumbai and Pune.
The campaign has a song that might seem silly but is as entertaining as it can get with a complete music video spanning 4:08 minutes. The musical PSA Poo Party which has personified sanitary horror as Mr. Poo manages to spread the awareness with the catchy line "Take the poo to the loo"
The campaign has made its presence on all social media platforms  with Facebook, Youtube , Twitter and a centralized website to make its mark.
The website of the campaign asks to 'Join the 'Take Poo to the Loo' campaign and pledge your support to a poo-free nation by signing a personal pledge that will reach the Hon'ble President of India. Every time you and your friends take the pledge, you signal your intolerance towards an India that accepts open defecation to none other than the President of India.'
We hope this campaign will trigger better toilet facilities and a cleaner and sanitised poo free nation!