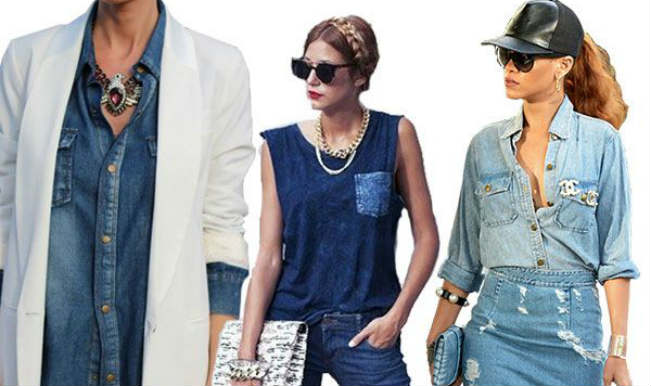 The most preferred clothing in anybody's wardrobe would be denim. They are an integral part of our living and basic denims have become more of a necessity, in today's materialistic world. Denims are preferred mostly for the perfect combination of comfort and style that they deliver. However there are certain unspoken rules in fashion. And one of them has always been denim on denim.
This summer however the fashion world has taken up a challenge, to do the undo-able, to break the rules and to make denim on denim work! From Louis Vuitton to Balmain, denim has been a dominant part of the runway this season. When we say denim, it's not just the jeans that we are talking about, a whole range of clothes like denim shirts, jackets and other fabric clothes that are designed to look like denim are trending. While this can either turn out to be a head turner or a fashion faux pas, here's your guide to carry this difficult combination.
Play with the colours
Denim has a wide range of colours from the light blue with a white monkey wash to the military green and carbon black. With the recent introduction of coloured jeans, the selection range widens. One of the simplest trick, is to sport a lighter shade of denim shirt on a pair of dark coloured jeans.
The classic way
One of the simplest yet disarming double denim look is pairing a boxy cut denim top with a pencil fit skirt. If you prefer not playing with the shades when sporting this combination, this is an easy solution. All you need to do is accessorize right! This combination would look great with a neck piece and a colourful sling bag.
Jackets
There is nothing cooler than a denim jacket. However, keep in mind the 'colour distinction' factor. A light blue jeans with white, tucked in shirt and a jacket in military green is a perfect combination for the cool look.
Coloured denim
As already stated, the colored denim has opened a wide variety of denim to choose from. One of the best combinations of double denim is pairing a colored pair of jeans with a classic jacket. Accessorize it with a scarf and good shoes and you are done for the day!
White jeans
One of the must-haves in every wardrobe is a pair of white jeans. Pair this jeans or even a three fourth with a denim shirt for the casual summer look. This is one of the combinations that work in its simplicity and a pair of cool shades is all you need to get this laid-back look right!
Photo Credits: Pinterest