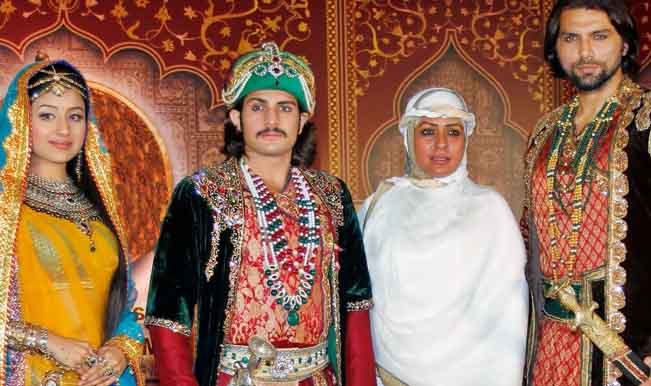 There was a time when television soaps revolved around the lives of joint families, Indians women and love stories. The serials were merely women oriented, trying to capture their day to day activity, in order to serve to their targeted audience. While these serials still continue, there is a definite change in the content airing on Indian Television. The Saas-Bahu sagas have now become considerable less as other streams and stories share the prime time. The main theme that has held side line the Saas-Bahu saga to a certain extent are the historic biopics. From the great Maratha Shivaji Maharaj, to the Moghul emperor Akbar, there are various shows dedicated to these historic people and revolving around their lives. Here's a pic of the top five historic Indian TV soaps that have aired.
Jodha Akbar
Jodha Akbar is an epic drama set in the sixteenth century, revolving around the political marriage of a Mughal emperor Akbar to a Rajput princess Jodha Bai. The show focuses on the path their marriage walks through and their journey of love. Inspired by the historical drama film of the same name, this soap has won many hearts and risen interest to the history of Akbar's legacy.
Bharat ka Veer Putra – Maharana Pratap
This fiction drama which is currently on air, is based on the life of the 16th century Rajput ruler of Mewar, Maharana Pratap Singh. He was known for his bravery and was often referred to as "Veeron mein Veer", implying "the bravest of the brave". This serial revolves around the training and coronation of Rana Pratap and sheds light onto the historic Battle of Haldighat. This drama series has been one of the chartbusters.
Dharti Ka Veer Yodha Prithviraj Chauhan
This historical drama which moves around the upbringing as well as emperorship of the famous 12th century emperor, Prithviraj Chauhan, was acclaimed for the serenity and cinematography. This drama which aired in mid-2006, was one of the early birds that helped in the introduction of such serials in the prime time slot.
Veer Shivaji
Veer Shivaji was a historic drama series focusing on the life of the 17th century founder of the Maratha kingdom, Shivaji Maharaj. The series premiered on 2nd September, 2011 and instantly successful. The show broke various records and had an initial TRP of more than 2.6.
Ek Veer Stree Ki Kahani… Jhansi Ki Rani
This historic drama based on the life of the Rani of Jhansi, Lakshmi Bai, aired in the late 2009. It was one of the most TV shows which aired for almost two years and revolved around the whole life of this brave queen. The series received immense praise for the historical accuracy of the costumes in the series. The series also won various awards along with the critical and commercial acclaim.
By Aishwarya Krishnan