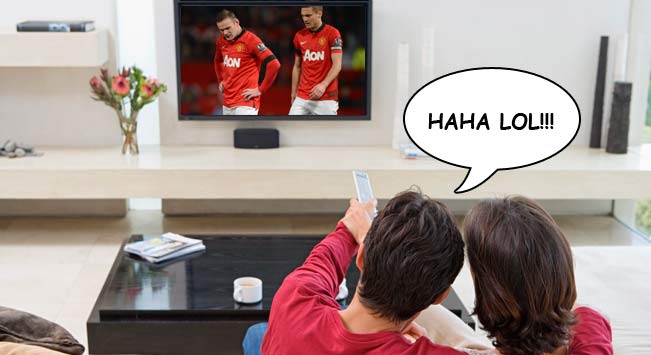 A study has claimed that Manchester United has replaced several comedy shows in several countries as as the most watched TV show of all time. Once regarded as the strongest team in all of Britain, Manchester United has entered a new TV platform and is being considered as one of the best entertaining shows on TV. It's known as The Manchester United Show.
After Sir Alex Ferguson's departure, David Moyes' arrival at the helm of the club has brought a new fear for all football fans. A fear that they might just burst a lung while laughing out loud. Even though the Manchester giants bought Juan Mata for a club record fee from Chelsea in January, the side has still failed to turn their fortunes in the English Premier League. That too considering the Spaniard has made an instant impact for the side which makes it even funnier!
In India, Manchester United beats CID as the most Entertaining TV show. It's the only show on a sports channel to have been tagged as "entertainment". With the ups and downs that the Red Devils are experiencing, the fans of Liverpool, Arsenal and Chelsea are teaming up with their popcorn and to enjoy the highly hilarious drama. Kids are spending time with their parents again and are enjoying the misfortunes of Man Utd. Life's all rosy again!
Even though the United States isn't big on "soccer", they sure are big on following reality shows. And now, The Manchester United Show has become the second most watched reality show after "Keeping Up With The Kardashians". TV personnel are predicting that David Moyes' men might become the most watched around the month of April after which the side will have already been embarrassed by Arsenal, Manchester City, Liverpool and a strong side in the Champions League. Take a look at the ratings over the last few months for some of the leading reality shows in US:
Keeping Up with the Kardashians – 21.6 million viewers
The Manchester United Show 21.0 million viewers
The Bachelor 19.0 million viewers
Duck Dynasty 17.5 million viewers
American Idol 16.2 million viewers
Dancing with the Stars 15.1 million viewers
America's Next Top Model 14.8 million viewers
The Real Housewives of Beverly Hills 14.2 million viewers
After the 2013-2014 season closes, DVDs will be made available for fans to purchase and watch. Rumours suggest that it will be called "Hilariously United". Obviously it will be available on Torrentz too.
(Disclaimer: This is a work of fiction. The Manchester United Show hasn't been launched yet.)
Photo credit: Jyoti Desale