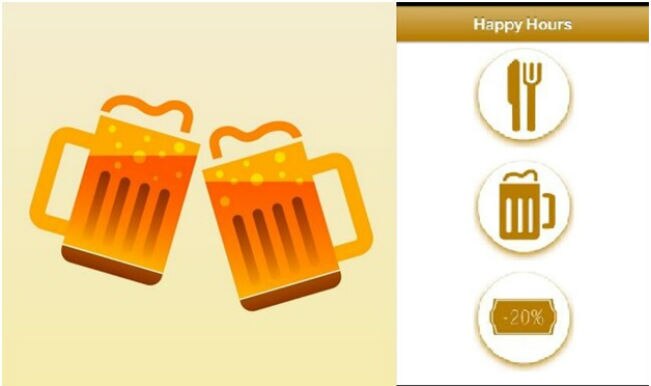 When we want to celebrate, we're usually in a fix. The fast city life has us going from one place to another, in search of an exciting drink, great food and a pleasant ambience. Whether with a friend or that special someone or work colleagues, we sometimes want to just have fun. But where can we do that, and get an attractive offer too?
In the era of smartphones, a new app for your mobile can now solve this dilemma. The app, called 'Happy Hours India' gives real time information of "happy hour" timings at restaurants around you. So, once you download and install the app, it asks for your permission to access your location. Then, the app detects the places around you and shows you where to go. It's that simple.
Now, you can find a list of restaurants, bars and pubs near you with their happy hour offers on alcohol along with the timing and days of availability. On selecting a place, the tab opens to provide the address, cuisine, phone number and facilities such as parking, smoking area, Wi-Fi connectivity, outdoor sitting space, etc. on the same page. Besides drinks, the app also offers the option of browsing through discounts on buffet meals for breakfast, lunch, brunch and dinner.
We tested the app ourselves, as it is available for free on Android and iOs platforms. Some of the deals that we discovered were totally unknown before. So, now you don't have to browse through a list of menus of city restaurants, when you have this app.
Finally, when you change locations or travel to different cities, you simply need to change location manually, or let your mobile Internet connection do the job. Ravi Raj, co-founder of the app said, "The app was founded with the vision of doing both – giving customers the joy of finding 'happy hours' at places near them, and also maximizing occupancy for restaurants that do so. We are working towards this, and have made much progress in a short time." While Ramanathan Seshan, who also co-founded the app, said, "The application, in itself, is extremely lite and does not pinch your pockets when you pay your mobile bills. The entire user experience ensures that you really don't spend time on multiple clicks to finally get information you looking for. In this way, the app saves you time and money." According to them, the app has been designed and programmed keeping in mind the young Indian audience.
All in all, whether a weekend fun night with friends or a romantic night with special somebody or an unplanned mid-week hangout with colleagues, let Happy Hours do the job and all for free!
Download the app here.
Android: http://bit.ly/1jOysrz