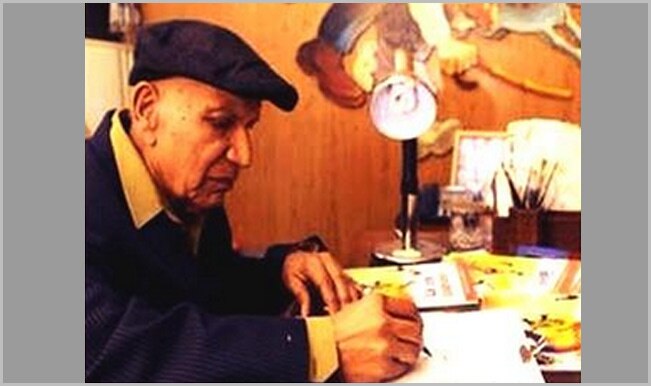 One of the most successful cartoonist Pran Kumar who passed away today has brought smiles to million of people with his witty and creative cartoons since ages. The man behind the famous comic series, Chacha Chaudhary today made tweeples remember his rich work. Twitter is filled with homage to the great personality who lived many a lives in one life through his amusing characters.
Although many cartoon characters has caught the mind of the younger generation lately, Chaudhary's unique characterization and plot had garnered a lot of attention and still remains to live in people's mind.  From Prime Minister to common man who are fond of the series, Twitteratis are praising the Chacha's wisdom in solving day to day problems with his common sense.
The series although based on the normal life of a middle class man rather than any fictional superhero figure, this man truly deserves a bow. Here are Tweeples remembering the witty and clever man.
PM described Shri Pran Kumar Sharma as a versatile cartoonist who brought smiles on the faces of people through his rich work.

— PMO India (@PMOIndia) August 6, 2014
Thank U …. "Pran Kumar Sharma" for giving life to character Chacha Chaudhary !! #ChildhoodMemories #RIP #MyTribute pic.twitter.com/rxOWurauOg

— Atheist ❤ Krishna (@Atheist_Krishna) August 6, 2014
In another loss of a legend, Pran Kumar Sharma, creator of iconic comic book characters like #ChachaChaudhary and Sabu, passes away.

— New Indian Express (@NewIndianXpress) August 6, 2014
RIP #Pran Kumar Sharma – You contribution to our beautiful childhood has been immense

— teleparallel (@teleparallel) August 6, 2014
RIP #Pran Kumar Sharma – You contribution to our beautiful childhood has been immense

— teleparallel (@teleparallel) August 6, 2014
RIP #prankumarsharma : Father of Indian comics pic.twitter.com/7JMNtrMq6n

— Anand Tripathi (@dranandtripathi) August 6, 2014