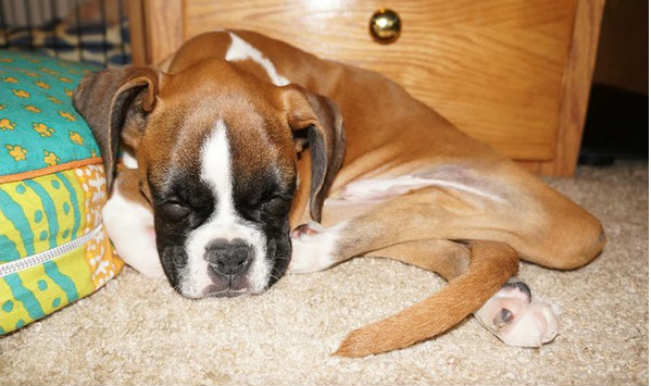 Half the legs, twice the spirit – at least that is what everyone who knows Duncan has to say.
Duncan – full name, Duncan Lou Who – is a 9 month old boxer, with two of his hind legs missing. He visited a beach for the first time and was filmed as he went crazy there.
The two minute video has since amassed almost four million views on Youtube, and has earned the little guy a legion of fans. The pup is also to make public appearances for the impression he created.
Little Duncan was born with severely deformed back legs, and an incompletely formed pelvis. The weight of his x-shaped legs was further stressing his pelvis. His current owners decided to take him when he was three months old, and fell in love with the pup as soon as they did so. When they took Duncan to the vet, they were told that the hind legs would have to be amputated. If they did not want to do that, they could have him humanely put to sleep. But the owners chose the former option.
After Duncan was operated on, he was given specially made wheelchairs. But he refused to use them and worked to function without help. Currently, he has a thin frame, since he stopped growing at 4 months of age, and does not put on weight despite eating a lot. His frame makes it easier for him to carry himself on two legs.
His owners know that there is a possibility that Duncan's life will end sooner than if he was a healthy dog. However, they want the pup to live a full life in their company.
Duncan's owners, Amanda Giese and Gary Walters, run a non-profit animal rescue called Panda Paws Rescue. This is based in Vancouver, and specializes in medical and special needs care for dogs. The owners regularly post photos and videos of the happenings on social media sites.
But this time, Duncan's video struck a chord. And how.
Giese and Walters had not had a vacation in a long time, so they decided they would take to the beach with the dogs. Initially they were hesitant to let Duncan down on sand, as they were not sure how he would balance. But as soon as they left him, he acted like he was born on the beach!
Duncan raced his owner and played with other dogs, much to their amazement. At the end of the video he even raised his entire body on his front legs, to avoid the water from the ocean.
Duncan's owners have received many emails from people who reacted emotionally to the video. They said they had used it to cope with depression and loss of their loved ones. Seeing the dog losing himself gave people a break from their sadness to revel in the happy moment Duncan had.
So why share the story of Duncan Lou Who with the world? Giese and Walters are of the opinion that the heartwarming video will make people aware of all those animals that are in shelters, waiting to be adopted into loving families. They hope that the video will encourage those considering having a pet, to adopt one.