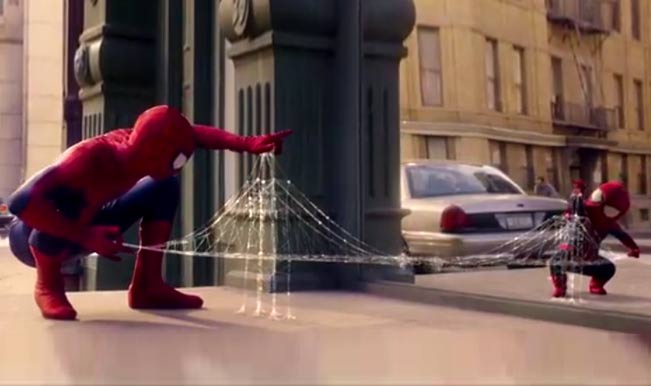 No, we are not going gaga over actor Andrew Garfield from The Amazing Spider-Man series, but over the sequel of Evian's Baby & Me ad campaign for the water brand.
The original ad featured pedestrians enjoying their baby-self in the mirror and dancing away to glory. But Evian goes one step ahead this time by Baby-fying the superhero Spider-Man. (Also Read: Evian's 'Baby and Me' ad justifies its concept of 'Live Young'! )
Evian, the bottled water brand in its latest advertisement is promoting the forthcoming installment The Amazing Spider-Man 2. The ad film opens to the typical setting of Spider-Man zooming around the city towers with his webs, when he suddenly stops to see his reflection in one of the glass panes. And lo, he sees a baby, chubby Spider-Man looking at him! He waves and the cute Spidey is waving back at him.
Well, call it invitation enough; Spider-Man moves on to show his to-die-for dance skills. Watching the baby Spider-Man is worth killing for, as he progresses into new steps!
Evian's idea of grown-up Spidey and chubby Spidey makes you think how the rest of the superheroes would look like in their baby self. Evian babies and now superhero babies are a complete hit with the audience, who went completely 'aw!' with this advertisement. Do not miss the two making the bridge! Enjoy the super cute ad.
Watch: Evian's The Amazing Baby & Me 2 ad