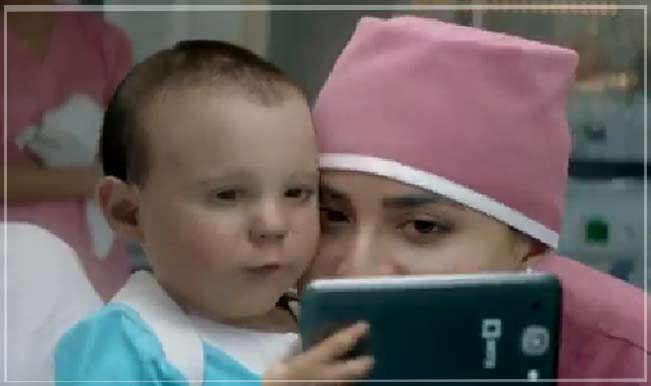 With 'BORN FOR THE INTERNET' tagline, the MTS latest advertisement is creating a buzz with #MTSInternetBaby in the virtual world before it hits the telly world from today i.e. 27th February, 2014. The ad featuring the animated baby and his fixation for internet right from womb subtly highlights the dominance of MTS 3G Plus Network.
The ad's beginning reminds you of the labour scene from the movie 3 Idiots, with doctors coaxing the mother to 'push'. But the difference ends just there as much to the doctor's and staff's shock, the animated baby comes out poking his finger to the doctor and grabs his father's tab to search 'how to cut the umbilical cord?', takes a look at the diagram, and does so himself! Ouch. He does not stop there as next he is seen taking the 'selfie' with the nurse, dresses up and logs in to upload his video on YouTube and is seen walking out of the hospital dormitory using GPS navigation.
The advertisement is definitely better than MTS egg shaped logo, and they are also raising the bar in terms of the target audience. There is cute and wow factor in this ad by Creative Land Asia. The ad makers is showing what is in store for the future but for now watch and enjoy the #MTSInternetBaby who is born to #ExploitTheWeb.