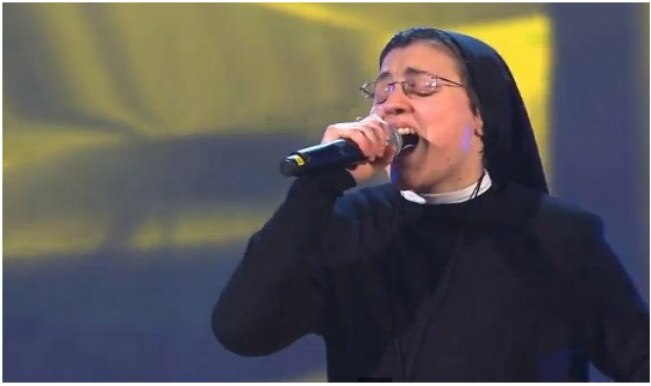 How often is it that you see a nun rocking it out on stage? Well, that just happened in Italy! A Roman Catholic nun sang her heart out, at the blind auditions of the Italian version of The Voice.
Sister Cristina Scuccia, who was auditioning for the hit reality singing competition, surprised the audience and the judges. With her amazing rendition of Alicia Keys' song 'No One', she managed to get all four of the judges to spin their chairs around for her. The look on each of their faces as they saw who the singer was, was priceless!
The nun performed the song like she had been on the stage for years, and her incredible audition was heard by judges Raffaella Carra, J-Ax, Noemi, and Piero Pelu, who are all Italian artistes. All four were left astounded when they turned around. The crowd stood up on their feet as soon as she began, and roared in applause after she finished singing. The power-packed performance, that saw her moving all across the stage and pounding emotion into each word of the song, was much appreciated by everyone present.
The performance by Sister Cristina has not surprisingly, reached international fame. The video went on to become an international viral video hit on YouTube, amassing a total of almost 18 million views until now. Twitter was flooded with updates of the audition and of the nun's talent as a singer and performer, leading to the formation of the hashtag #suorcristina, which trended for hours.
When asked if she was actually a member of the religious, Sister Cristina replied in the affirmative. She is a member of the Ursuline Sisters of the Holy Family of the Roman Catholic Church. She had her fellow sisters with her during the audition, as well as her parents who cheered her on.
The 25 year old nun told the judges, "I came here because I have a gift and I want to share that gift. I am here to evangelize." When she was asked about what she thought the Vatican would think of her skills and her performance, she said that she hoped that the Pope would give her a call! And given the fact that Pope Francis has been the most popular pope so far, she can count on the fact that he would do so.
In the end, she had to choose between the four judges, and decide which one would be her mentor. She said that she told herself that if the judges turned around, she would choose the first one who did. And that was Italian rapper J-Ax, who was ecstatic and said, "If I had found you at Mass I would always be in church."
The rapper later said that he was thrilled to be chosen by who could be the most popular contestant, ever, on The Voice of Italy.