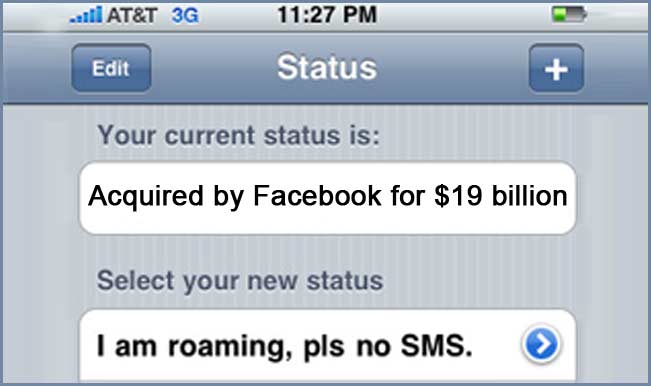 Facebook, the second most surfed website after Google, takes another gigantic step to higher its position by acquiring WhatsApp – an awesome messaging startup. The inspiring story of its founder Mark Zuckerberg, is known by most the people who use this site. While there have been many improvements and changes to the initial networking portal changing its complete look, their main focus has always been towards content. With 61 per cent of its users being active on a daily basis,
Facebook has touched the life of every age group. There also exists a crowd, which is not excited by Facebook and prefers to remain away from the social world, which they find either monotonous or too intruding. These people are of a wide spread age group, however mostly comprise of teens. This group is more than happy in the real world and prefers the usage of messaging apps for staying connected with their friends. Despite the existence of this group, Facebook still remains the networking giant.
The portal has been expanding its resources and acquiring other breaches to add to its family. The USD 1 billion acquisition of Instagram is still afresh in the minds of many. Continuing its trend, Facebook has acquired yet another company. This time around, it came as a shocker that it acquired the 55 employee run messaging app WhatsApp.
WhatsApp, based in Mountain View, Calif., was founded by a Ukrainian immigrant who dropped out of college, Jan Koum, and a Stanford alumnus, Brian Acton. The biggest positive attribute of WhatsApp is its no advertisement policy and the affordable costing of 99 cent per year( after one year of use). This Silicon Valley startup fairy tale has gained 450 million users in five years, adding another million on a daily basis. The 55-employee company, which acts as a kind of replacement for text messaging, has seen its use more than double in the past nine months to 450 million monthly users, making it more popular than Twitter Inc., the widely used microblogging service, which has about 240 million users and is valued at USD 30 billion.
This acquisition was made within two weeks of the initial conversation between the founder of Facebook Mark Zuckerberg and WhatsApp co-founder and CEO Jan Koum. The deal was closed at USD 19 billion dollars in a cash and stock deal. The transaction, which includes USD 3 billion in restricted stock units to be granted to WhatsApp's founders and employees over four years, ranks as the largest-ever purchase of a company backed by venture capital.
Zuckerberg assures that WhatsApp would run independently from its headquarters at California's Mountain View. WhatsApp's core messaging product and Facebook's existing messenger app will continue to operate as standalone applications.
By Aishwarya Krishnan