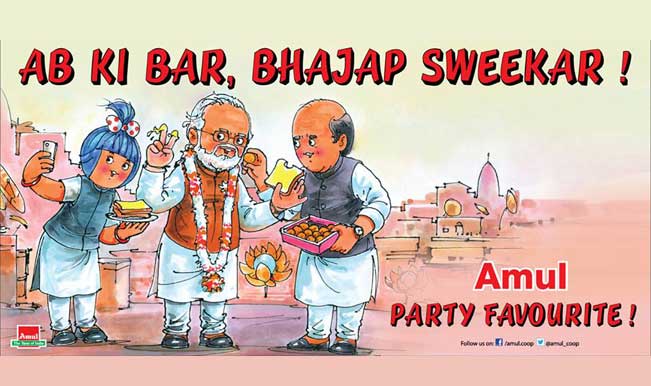 The entire campaign season of Lok Sabha Elections 2014 passed by singing the slogans of Narendra Modi's "Ab Ki Baar, Modi Sarkar" to "Aakhir Aa Gayi Modi Sarkar" but it was special when Amul came out with their creative celebrating Narendra Modi's coming into power. Amul which has been innovative with their print ads over the years did not fail to impress with their latest take on Narendra Modi's historic win in the 16th Lok Sabha Elections 2014.
The creative depicts the utterly butterly girl in the typical politician attire taking a selfie which features to be Prime Minister Narendra Modi in his famous victory pose along with Bharatiya Janata Party President Rajnath Singh. In a quite similar manner the way Rajnath Singh was seen congratulating Modi with sweets during the party meeting, here too he is offering sweet to Mr. Modi.
You love the tagline which is 'Ab Ki Baar, Bhajap Sweekar' and not 'Bhajpa'. The word Bhajap is widely used in Gujarat for the political party. Amul has also initiated the idea to set up factory in Varanasi and is looking to invest in 200 dairy plant in Narendra Modi's winning constituency in Uttar Pradesh.