Air India Officially Handed Over to Tata Group as Maharaja Returns Home | Key Updates
Air India returns to Tata Group. In October last year, the Talace Private Limited, a subsidiary of the Tata group's holding company, won the bid to take over Maharaja from the central government for Rs 18,000 crore.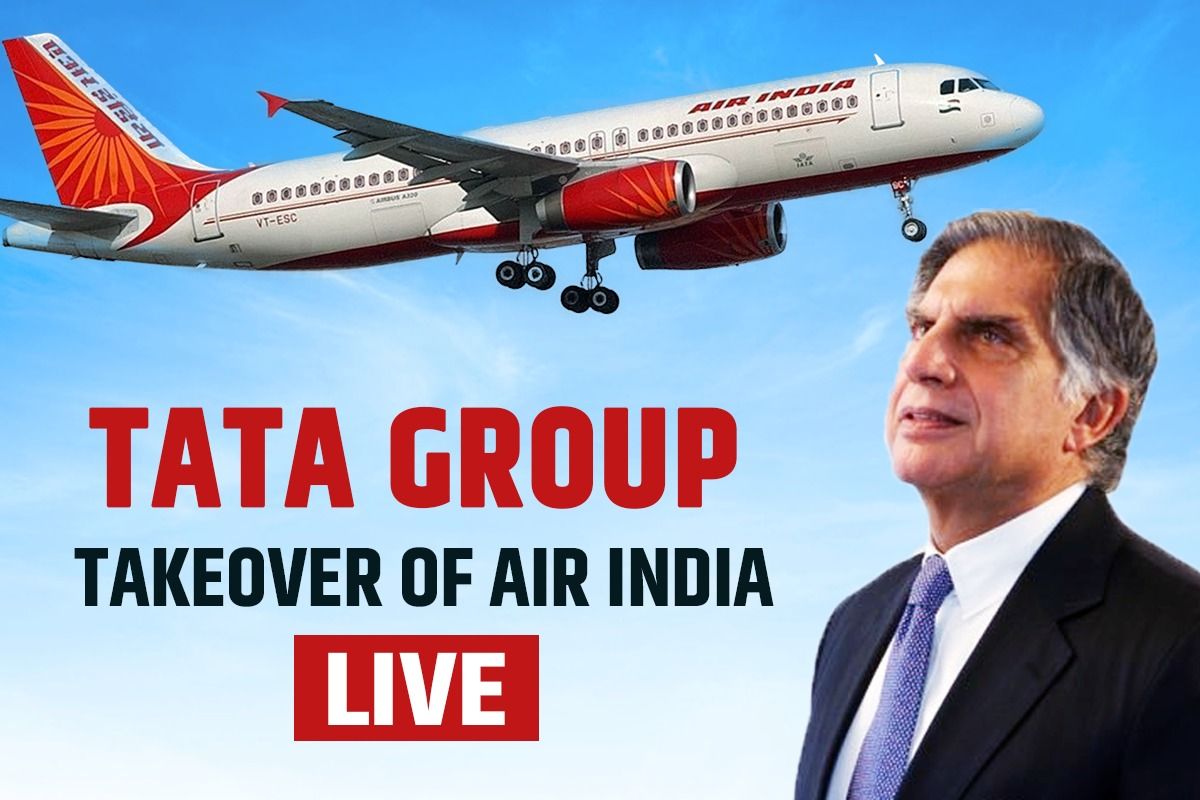 New Delhi: After a long journey of 69 years, Air India officially handed over to Tata Group on Thursday. Tata Group Chairman N Chandrasekhar is in Delhi to witness the formal transfer. Earlier in the day, he met PM Modi before the handover ceremony. "Officially Air India hands over to Tata Group today in the afternoon. Tata Group Chairman N Chandrasekaran will be in the ministries for the official handover process," a senior government official said. A formal announcement from the Tata Group regarding the official handover process was made today. Tata Sons Chairman earlier in the day met Prime Minister Narendra Modi ahead of the official handover of Air India.
Maharaja is the official mascot of Air India which operates globally apart from domestic operations. According to the available data in 2020, "Air India operates around 101 destinations including 57 domestic operations including 33 countries on four continents around the world."
Air India's Official Takeover By Tata Group: Key Updates:
"It is indeed noteworthy that the disinvestment process of Air India has been brought to a successful conclusion in a time-bound manner. This proves the govt's ability, and the resolve to carry out disinvestment effectively in non-strategic sectors in the future," said Union civil aviation minister Jyotiraditya Scindia
Tata Group takes over management and control of Air India, starting today
The strategic disinvestment transaction of Air India successfully concluded today with transfer of 100% shares of Air India to Talace Pvt Ltd along with management control. A new Board, led by the Strategic Partner, takes charge of Air India: Secretary, DIPAM
We're totally delighted that this process is complete & happy to have Air India back in the Tata Group. We look forward to walking with everyone to create a world-class airline: Chairman of Tata Sons N Chandrasekharan after taking handover of Air India
Air India has been handed over to Tata Sons: DIPAM Secretary Tuhin Kanta Pandey
The formalities have been completed. The Air India disinvestment process is closed. The shares have been transferred to Talace Pvt Ltd, which is the new owner of Air India: Tuhin Kant Pandey, Secretary, Department of Investment & Public Asset Management (DIPAM)

The Air India airline has been officially handed over to the Tata Group after 69 years.

The Tata Group, which is set to take over Air India today, will focus on improving the airlines' on-time performance, ANI quoted sources as saying.
Air India is set to be officially handed over to Tata Group. The current board will resign today to make way for the new team.
Tata Group Announces 'Enhanced Meal Service' in First Step Since Takeover of Air India. The "enhanced meal service" will be served on Mumbai-Newark flight and five Mumbai-Delhi flights.
Air India is India's biggest overseas carrier. With Air India and Vistara, Tata group will be the No.2 in the domestic market share after IndiGo.
Aviation experts say that Air India is carrying a substantial number of latest aircraft in its fleet from both Airbus and Boeing which is Air India's strength. Air India code share with Star Alliance and operates a total of 172 wide and narrow body aircraft with Air India Express globally including domestic operations.
Recently Vinod Hejmadi, Director Finance, Air India in an email to employees and said, "Air India disinvestment has been decided to take place on January 27, 2022. Closing balance sheet on Jan 20 is to be provided today, January 24 so that it can be reviewed by Tata and any changes can be made on Wednesday."
In October 2021, the government sold Air India to Talace Private Limited – a subsidiary of the Tata Group's holding company – for Rs 18,000 crore following a competitive bidding process. Seeking cooperation of the employees,
Talace Pvt Ltd, a wholly owned subsidiary of Tata Sons Pvt Ltd, last year won the bid to acquire 100 per cent equity shareholding of the Government of India in Air India along with equity shareholding of Air India in AIXL and Air India SATS Airport Services Private Limited (AISATS).
(With ANI inputs)