Petrol Price Down by 8 Paise Today, No Change in Diesel Price; Government Rules Out Tax Cut
In a fortnight row, petrol prices were reduced on Tuesday, while diesel prices remained the same.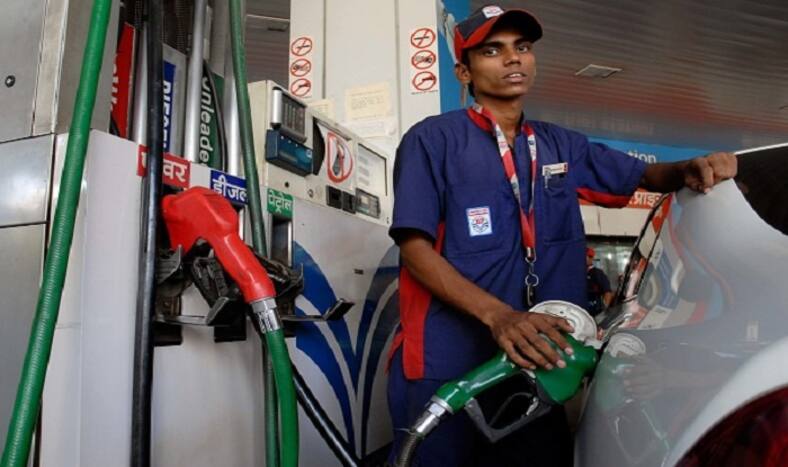 Petrol prices were reduced on Tuesday, while diesel prices kept unchanged after four days of no fluctuations in the fuel rates. As per the Indian Oil Corporation's website, petrol price in Delhi came down by 8 paise and retailed at Rs 76.27 per litre, while the price was Rs 78.94 in Kolkata, Rs 84.06 in Mumbai and Rs 79.16 in Chennai on Tuesday with effect from 6 am.
The retail price of diesel price in the national capital remained unchanged at Rs 67.78 per litre and was Rs 70.33 a litre, Rs 72.13 a litre and Rs 71.54 a litre in Kolkata, Mumbai and Chennai respectively. On May 29, the petrol price hit an all-time high of Rs 78.43 a litre while the diesel price retailed at Rs 69.31 in Delhi.
With global crude prices on the rise,  the opposition has criticised the National Democratic Alliance government for not decreasing the taxes on petroleum products. Union minister Arun Jaitley responded on Monday that any cuts in excise duty on petrol and diesel as demanded by opposition parties could push India in a debt trap.
According to Arun Jaitley, the idea of huge tax cuts is a "trap".  In a Facebook post, he wrote, "It is intended to push India into an unmanageable debt, something which the UPA government left as its legacy." Jaitley added, "We must remember that the economy and the markets reward structural reforms, fiscal prudence and macroeconomic stability. They punish fiscal indiscipline and irresponsibility."
Jaitley reportedly said, "Reliefs to consumers can only be given by a fiscally responsible and a financially sound central government, and the states which are earning extra due to an abnormal increase in oil prices."
The day to day changes in the domestic petrol and diesel rates are currently reviewed by state-run oil marketing companies such as Indian Oil Corporation, Bharat Petroleum Corporation and Hindustan Petroleum Corporation.