Bigg Boss 14 Grand Finale Highlights Saturday, February 20: Rakhi Sawant as 'Entertainer', Rubina Dilaik as 'Toughest Woman'
Bigg Boss 14 LIVE Updates: Aly Goni is winning the trophy this year, says his brother Arslan Goni while talking about how he is '110 per cent' sure of his brother's win.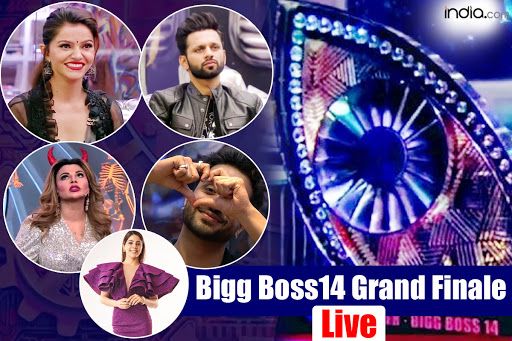 Bigg Boss 14 Grand Finale Saturday LIVE Updates: Rubina Dilaik, Rakhi Sawant, Rahul Vaidya, Aly Goni, and Nikki Tamboli are fighting for the trophy this year. In the Saturday episode, the contestants are made to see their journey inside the house. While Rakhi is declared as the 'original entertainer' by Bigg Boss, Rubina is called the toughest woman in the show. Rahul admits that he was offered the show in the past and now he regrets how he didn't appear on the show earlier. Both Aly and Nikki too can't control their tears as they thank both Bigg Boss and the audience for helping them reach the Grand Finale.
Fight For Trophy in Bigg Boss 14
After refusing to take the offer of Rs 6 lakh, Nikki raised the competition level and ended up standing alongside Rubina, Rakhi, Rahul and Aly in the Grand Finale. Aly, who entered the show as Jasmin Bhasin's supporter led a surprising journey as most people were expecting Jasmin at his place in the Grand Finale. For Rahul too, the journey has been quite difficult after he willingly stepped out of the show in between and then entered back later. For Rakhi though, Bigg Boss has come bearing a new kind of popularity. The show gave her the brand of entertainment that she's known for. Both Rubina and Nikki have remained two of the most popular contestants since the very beginning of the season and it will now be interesting to see who goes back home with the trophy. Check out the LIVE updates for Saturday here as we slowly move towards the Grand Finale episode:
10:38 pm: Bigg Boss tells Nikki Tamboli that throughout the season she played for herself and always wanted to make her individual image through the show. Nikki Tamboli became the first confirmed contestant of the show after winning the first task of the season. Her bond and chemistry with Jaan Kumar Sanu were loved by their fans. However, tables turned and she alleged that Jaan tried to kiss her forcefully. Nikku was soon eliminated from the house but even she made a comeback in the house. And finally, she found a friend in the house – Rubina Dilaik.
View this post on Instagram
10:06 pm: Bigg Boss declares Rubina Dilaik as the 'toughest woman' of the house. She has been the opinionated and highly influential personality in the house. She was also one of the contestants on the show who was frequently based by Salman Khan during Weekend Ka Vaar episodes. She had a fight with almost everyone in the house but still came out across a tough woman of the house and a very deserving finalist. From called a 'weak woman' to having a 'superiority complex', her fights with the inmates were ugly. Rubina and Abhinav even had their fights and then she revealed about their divorce. She even kept karwa-chauth fast for Abhinav in the house. After Rakhi called Abhinav 'tharki', Rubina lost her cool and said that she cares about her husband's respect. During Weekend Ka Vaar episode post the incident, she revealed that she had temper issues and suicidal tendencies 8 years back due to which she had a strained relationship with her parents. And then came Abhinav's eviction and another low in the Bigg Boss house hit her. She won the task 'Ticket To Finale' and helped Nikki Tamboli to enter the finale. Rubina goes emotional watching her journey in the house. Bigg Boss says that she has found herself in the house.
View this post on Instagram
09:52 pm: Bigg Boss tells Aly Goni that there are only a few who come to play for someone he loves, Jasmin Bhasin, and that is why his journey is unique and special. His journey begins with him and Jasmin confessing their love for each other. From Nikki Tamboli to Sonali Phogat to Pavitra Punia, Aly was liked by many women of the house leaving Jasmin jealous. Undoubtedly, Jasmin and Aly had many fun moments in the house and their romance was soon popular. From Nikki Tamboli to Eijaz Khan to Abhinav Shukla to Vikas Gupta to Kavita Kaushik, Aly had his share of fights in the house. And then the time came when Aly and Jasmin Lost the task and one had to take a leave from the house and Aly exited the show. But, he was back in the house and finally proposed to Jasmin for marriage. And then came Jasmin's elimination that broke Aly and even host Salman Khan had tears in his eyes.
View this post on Instagram
09:25 pm: Bigg Boss says that Rakhi Sawant is the face of the show since she entered the house in season 1. She has won several hearts with her funny antics, personal life details and her entertainment stint. Bigg Boss declared Rakhi as 'Sensational, Bold And Controversial Entertainment Queen'. She has given many names to the inmates and even had her share of fights. Her entertaining antics and declaration of her falling in love with Abhinav Shukla gave much viewership to the show. From wrapping saree around her to having some fun, Abhinav and Rakhi definitely gave a laugh to the audience. However, Rubina and Abhinav felt that she crossed her limits after she wrote Abhinav's name all over her body and even pulled the strings of his boxer, which led to an intense fight between Rakhi and Rubina. Amidst the fight, Rubina threw water on her and was nominated for the entire season. How can we forget about her avatar Julie when she acted like she is processed. After Salman was bashed for supporting Raakhi's 'cheap entertainment', she was finally slammed for her behaviour. Rakhi Sawant goes emotional after watching her journey.
View this post on Instagram
09:10 pm: Rahul Vaidya is shown some of his good, emotional and sad moments from his journey. From calling Jaan Kumar Shah a 'product of nepotism', to his friendship with Aly Goni to his fights with Rubina and Abhinav and Nikki Tamboli and last but not least, his proposal to his girlfriend Disha Parmar, his journey is beautiful. Rahul was definitely heartbroken when Aly exited the house. After his fight with Rubina, he was attacked by inmates for his statement against her and finally decided to take a voluntary exit but he soon made a comeback to the house. However, his fight with Rubina-Abhinav continued and his friendship with Aly grew stronger. He even became a good listener to Rakhi Sawant when she poured her heart out about husband Ritesh and their relationship. His even had a magical moment in the house with Disha Parmar.
View this post on Instagram
04:42 pm – Aly Goni's brother Arslan Goni says that he's 110 per cent sure that his brother will win the trophy. In an interview with Bollywoodlife, he said that Aly was apprehensive before stepping inside the Bigg Boss house but now, everyone is proud of his journey. Arslan was quoted as saying, "I am 110 per cent confident that he will win! If he doesn't win, it will be a shame. Of course, he will. He is doing so well. He is making you laugh, cry, smile, everything jo hamare nau ras hote hain and poore Hindustan ko usne poore nau ras dikha diye. I am so proud of him."
02:55 pm – Colors TV releases a new promo of Rubina Dilaik looking at her Bigg Boss 14 journey. The actor looks at herself breaking down, arguing, standing for the truth, and fighting for her husband Abhinav Shukla. Rubina thanks Bigg Boss as the clip shows how she had come to save her marriage but ended up winning so many hearts with her journey.
View this post on Instagram
02:40 pm – Bharti Singh clears the air around Rakhi Sawant's marriage and mentions that she has seen her husband Ritesh on a video call. A section of the audience and many contestants have earlier raised doubts over the existence of Rakhi's husband.
Read more here: Tu Hai Ke Nahi! Rakhi Sawant's Husband Ritesh Exists, Says Bharti Singh in Bigg Boss 14