Bipasha Basu-Karan Singh Grover wedding: The Bong beauty's mother is happy for her daughter! (Watch Video)
Bipasha Basu's mother Mamta Basu confirms the wedding will take place in Bengali style.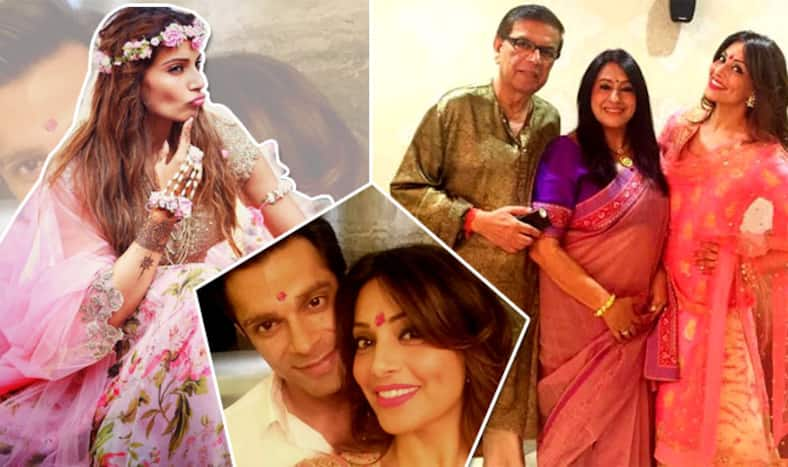 After lot hassles, B-town's much-in-love couple Bipasha Basu and Karan Singh Grover relationship was approved by their parents. Initially there were reports stating that neither Bipasha's nor Karan's mother was interested about their children taking the next step. Apparently, Karan's mother had not accepted the Bong beauty initially but on the other hand Bipasha managed to convince her parents. But somehow or the other the couple's parents finally agreed and accepted Bipasha and Karan's relationship. Yesterday (April 29) it was Bipasha and Karan's mehendi and sangeet ceremony and what mommy Mamta Basu had to say about her daughter and her beau will melt your heart.
The fans and media were eagerly waiting to know what all happened at Villa 69 in Juhu, Mumbai. Yes, that was the venue of Bipasha Basu and Karan Singh Grover's mehendi and sangeet ceremony. Right from Bipasha and Karan's family members to friends, all were part of this grand ceremony. But what caught attention was Bipasha mother's comment on her daugther's wedding and relationship with Karan Singh Grover. (ALSO READ: Bipasha Basu-Karan Singh Grover wedding: The couple's post mehendi and sangeet pictures are absolutely adorable!)
Bipasha Basu's mother Mamta Basu revealed some intriguing information of the mehendi and sangeet ceremony. She said that the couple danced to all the hit tracks of Bipasha's song. The beautiful mother even revealed that the wedding would be happening in Bengali style. Mamta Basu further added the couple has all the blessings from her. And if Bipasha is happy then mommy dearest is also happy. Watch the video below: (ALSO READ: All you need to know about Bipasha Basu and Karan Singh Grover's wedding!)
Mamta Basu added that the soon-to-be bride Bipasha Basu's wedding outfit has been designed by the very popular fashion designer – Sabyasachi. Can you think of anyone else when it comes to design a outfit for a Bengali bride? This #MonkeyWedding is definitely the most awaited one. We wish all the best to Bipasha and Karan! (Image Source – Bipasha Basu Instagram)