'Shaadi Mubarak': Rockstar Ranbir Kapoor Returns To Work Post Wedding With Alia Bhatt-Watch
Actor Ranbir Kapoor was recently greeted by the paparazzi at Andheri as one of the photographers shouted 'Shaadi Mubarak.' Ranbir stepped out his car to resume work post marriage with actor Alia Bhatt.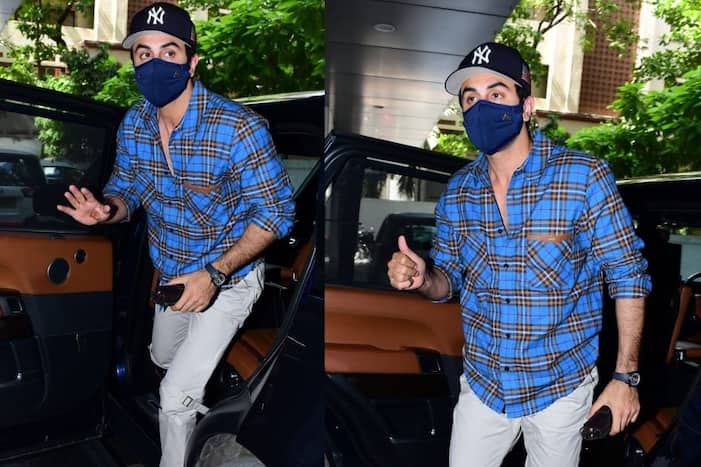 Ranbir Kapoor Resumes Work: Actor Ranbir Kapoor to work after wedding with Alia Bhatt as the shutterbugs greeted him with good wishes. As soon as the actor stepped out of his car, the shutterbugs shouted 'Shaadi Mubarak(congratulations on your wedding).' The Kapoor scion was seen getting inside a building in a video clip gone viral. Check out this post shared by photographer Viral Bhayani:
View this post on Instagram
Ranbir Gives A Thumbs Up To Paparazzi!
In the video Ranbir can be seen donning a black cap and a navy blue mask. The actor wore casual blue plaid shirt teamed with beige pants and white shoes. As soon as Ranbir came out of his car photographers screamed shaadi mubarak. The actor flashed a thumbs up sign while getting clicked and went straight inside the building. Check out this post by Viral Bhayani:
View this post on Instagram
Alia To Work With Wonder Woman!
On April 16 evening The Brahmastra actor and wife Alia participated in a post wedding bash. The couple were joined by Neetu Kapoor, Riddima Kapoor, Karisma Kapoor and Akanksha Jain Kapoor. Alia is about to begin work on her Hollywood project with Gal Gadot soon.
For more updates on Ranbir and Alia check out this space.