live
Shah Rukh Khan's Son Aryan Khan Gets Bail After 21 Days in Jail – Highlights From Thursday's Bail Hearing
Big relief for Shah Rukh Khan's son Aryan Khan, Arbaaz Merchant and Munmun Dhamecha as they get bail in the drugs case after spending over 20 days in the Arthur Road Jail. Here are the highlights from Thursday's bail hearing in the Bombay High Court.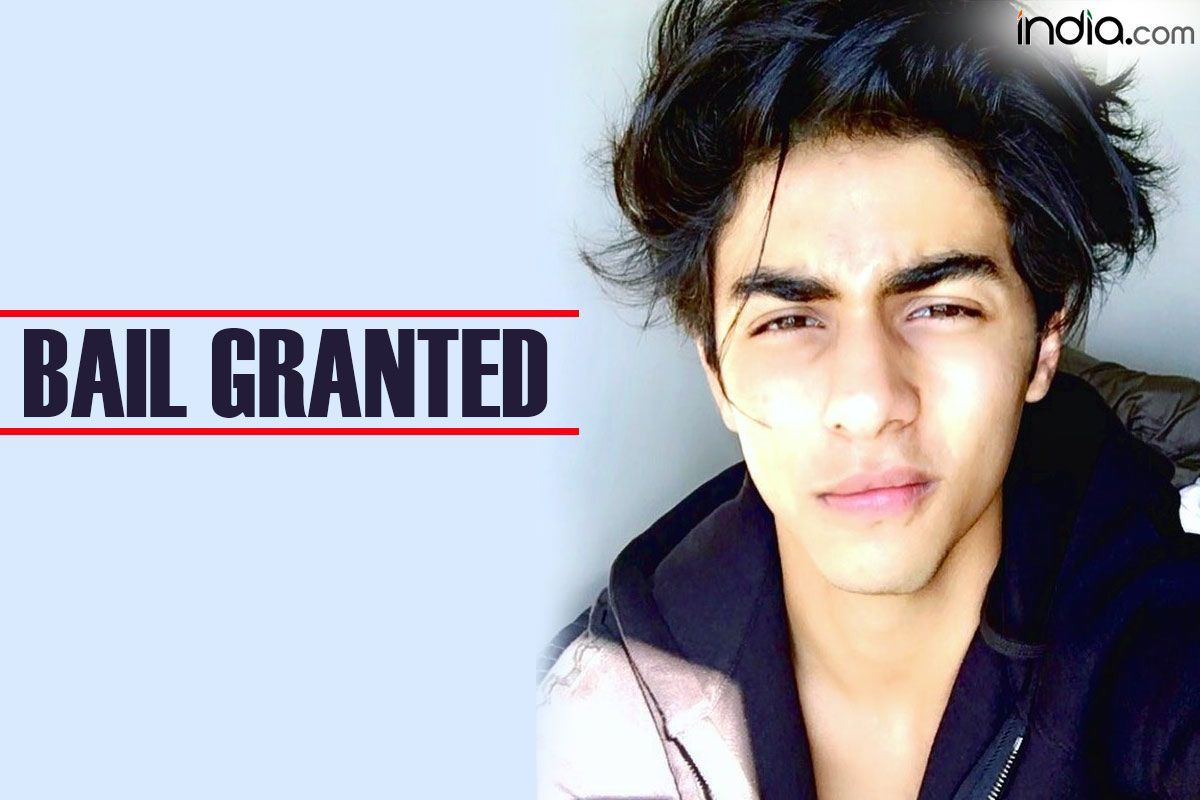 Aryan Khan Bail Plea Hearing Highlights From Thursday: Aryan Khan was granted bail by the Bombay High Court on Thursday, October 28. Big relief for Aryan Khan, Arbaaz Merchant, and Munmun Dhamecha as the three got bail in the drugs case. While the full bail order is yet to come, the three kids are expected to walk out of the Arthur Road jail tomorrow, or on Saturday. While seeking bail for Bollywood superstar Shah Rukh Khan's son in the Bombay High Court on Thursday, senior advocate Mukul Rohatgi gave a rejoinder to NCB's response. On behalf of Aryan, Rohatgi said, "There were 1,300 people on the cruise. I did not know anybody else except Arbaaz and Achit. Their (NCB's) case is — it is no coincidence and therefore it is a conspiracy. Conspiracy is a meeting of the minds. It cannot be based on coincidence. You (NCB) have failed to prove meeting of minds with these eight people and therefore called them independently. There is absolutely no material for the purpose of the conspiracy."
ASG Anil Singh, who argued for NCB, countered Rohtagi's argument and said, 'Aryan is not a first-hand consumer but regular consumer since last 2 years. The court heard Aryan's bail plea for three days in a row before granting him bail. During arguments on Wednesday, Aryan's lawyer Amit Desai argued that the NCB didn't conduct any blood test on Aryan and therefore, no claims of consumption of drugs can be established on his part. Calling it a 'trap' by the NCB, the senior advocate told the court, "If the NCB officers went there to find people consuming drugs, they can do blood testing of all those. There is no blood test where consumption is proved."
Amit Desai further told the court that even though nothing has been recovered from Aryan Khan and his medical test was not conducted by the NCB, the matter can at best be taken as a 'case of consumption', not as a 'case of conspiracy.' He said in the court that "bail is the rule and jail is the exception. Now it is arrest is the rule and bail is the exception."
The 23-year-old star son was arrested on October 3 after a drugs raid at a party by Narcotics Control Bureau officers in disguise. He was lodged at the Arthur Road Jail along with another accused Arbaaz Merchant. Whereas, Munmun Dhamecha was at Byculla women prison. A total of 20 people, including two Nigerian nationals, have been arrested so far in the Mumbai drugs case in which Aryan and the other two kids were arrested.
Aryan Khan's bail plea was rejected by the special court on October 20 in the case following which his judicial custody in the matter got extended till October 30. Khan approached the Bombay High Court for an urgent bail hearing. Meanwhile, NCB's independent witness KP Gosavi was arrested by Pune police in connection with a 2018 cheating case. In 2019, Pune City Police declared Gosavi as a wanted man. He was missing since then and was only spotted during the cruise raid as an NCB witness. On October 14, the police issued a lookout circular against him.
KP Gosavi is also is an independent witness in the Aryan Khan case, who had been absconding since his viral selfie with Shah Rukh Khan's son went viral. He also recently tried to surrender at a police station in Uttar Pradesh capital Lucknow.
Check Updates from Aryan Khan's bail plea hearing on Thursday:
Live Updates
Aryan Khan To Come Out Of Jail On Friday or Saturday

Lawyer Mukul Rohatgi said that Aryan Khan, who was granted bail on Thursday by Bombay High Court, will come out of the jail tomorrow or on Saturday.

Aryan Khan Not Allowed To Leave Country

Shah Rukh Khan's son has been given bail on certain conditions. As reported by Times Now, Aryan is not allowed to leave the country. Not just this, but the superstar's son will also be asked to surrender his passport. Aryan has also been restricted from any media briefings.

R Madhavan Celebrates Aryan's Bail

Thank god . As a father I am So relieved .. … May all good and positive things happen.

— Ranganathan Madhavan (@ActorMadhavan) October 28, 2021

Sonu Sood Shares Cryptic Post After Aryan Khan Granted Bail

समय जब न्याय करता है,
तब गवाहों की जरूरत नहीं होती।

— sonu sood (@SonuSood) October 28, 2021

Aryan Khan has been granted bail

Aryan Khan's bail order will be read out by Bombay High Court tomorrow. Detailed order will come later today or tomorrow.

Aryan Khan Not A First Time Offender; Attempted To Deal In Commercial Quantities: ASG Anil Singh Argues For NCB In Bombay High Court

Today and tomorrow are crucial for Aryan Khan | Tomorrow is Friday, and if till tomorrow, Aryan doesn't get bail, there will be a prolonged till mid November as the court will be closed due to Diwali holidays.

NCB says Bail is exception in Aryan Khan case as he knew his friend Arbaaz was carrying drugs | ASG said, "Supreme Court judgment says that drug menace is a more heinous crime than culpable homicide and has to be tackled stringently." Referring to the seizure panchama, ASG added, "Aryan Khan had said in panchnama that contraband found on Arbaaz was meant for smoking during cruise journey. They say they are going inside to have a blast. Bail is not a rule in NDPS case. The question of admissibility of statement under Section 67 or CrPC will apply only at the time of trial and not at the stage of bail hearing."

Sameer Wankhede Vs Mumbai Police: Mumbai Police Assures Bombay High Court That 3 Days Notice Will Be Given Before Arresting Him | Hearing the petition on Thursday, a Bench comprising Justices Nitin Jamdar and SV Kotwal recorded the assurance given by the Mumbai Police that 3 days notice period would be given to Wankhede before arresting him in the extortion case initiated by the State police against him.