Kaali Movie Poster Controversy And Death Threats Against Leena Manimekalai | 10 Points
Kaali Movie Poster : Director Leena Manimekalai has been issued a death threat for her film 'Kaali' which shows a woman smoking a cigarette while dressed as Goddess Kaali on the poster. As the uproar rises, here's everything you should know about the controversy in 10 points.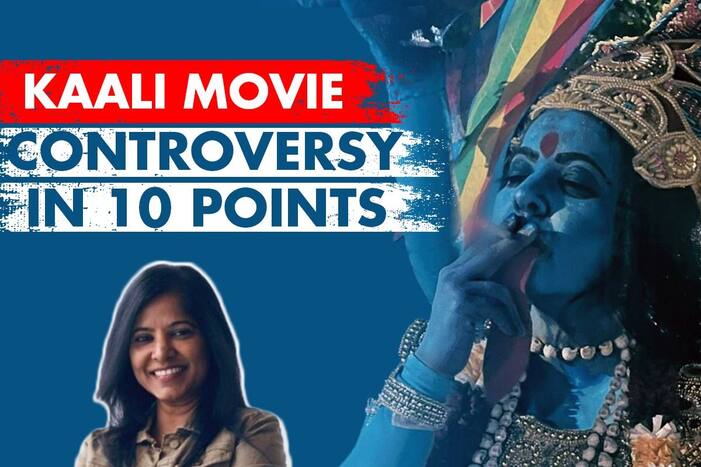 Kaali Movie Poster Controversy latest update: Independent director Leena Manimekalai invited a storm on social media when she shared the poster of her film titled 'Kaali' last week. The film and its poster have now created a big uproar in the country with several politicians and fringed groups weighing in on the controversy. A section of the group has also demanded a ban on the film while a seer has issued death threats to the director in India.
Kaali Movie Poster Controversy: Here's how the events have unfolded over the last week
Canada-based independent director Leena Manimekalai shares the poster of her film on Twitter on. The poster shows a woman smoking a cigarette while dressed as the Hindu Goddess Kaali. The tweet now stands deleted.
On Monday, July 4, the first complaint against Leena is lodged in Delhi when a lawyer reaches out to the cyber cell of the Delhi Police and alleges that the film's poster hurts religious sentiment. His statement to the police read, "The Director has hurt my religious sentiments by showing Goddess Kali smoking which is highly objectionable and not acceptable in any manner."
On the same day, Leena breaks her silence on all the objections and says nothing can deter her spirit and curb her voice. She says she will express her voice and if the price for doing that is her life, she will give it away. "I have nothing to lose. I want to be with a voice that speaks without fear of anything until it is. If the price is my life, I will give it (sic)," she tells a Tamil channel.
On Tuesday, several political leaders and personalities from the film industry comment on the controversy including actor and MP Nusrat Jahan and TMC leader Mahua Moitra among others.
Nusrat, at the India Today Conclave, comments, "Let's not pull religion again and make it saleable. It's good to sit in your home and watch this masala. Look, I have always supported creativity and individuality. Having said that, I also believe religious sentiments shouldn't be hurt. If you are coming up with something creative, you decide and then take responsibility for your own actions as well. As far as I am concerned, I would never hurt anyone's religious sentiments or mix creativity and religion."
Mahua Moitra, at the India Today Conclave, comments, "Within Hinduism, being a Kaali worshipper, I have the freedom to imagine my Kaali in that way… that is my freedom and I don't think anyone's sentiments should be hurt. I have the freedom… as much as you have to worship your God. For me, Goddess Kaali is a meat-eating and alcohol-accepting goddess. And if you go to Tarapith (a major Shakti Peeth in West Bengal's Birbhum district), you will see sadhus smoking. That is the version of Kaali people worship (there)."
On Tuesday, Leena talks to the media and gives multiple statements defending her stance on the issue. Talking to Chennai Express, she says, "Kaali, the film is all about choosing love and championing humanity. Trolls who are witch-hunting me are fueled by hate. They have nothing to do with faith. If they are patient enough to watch the film they might choose love. But that's exactly why they want the film to be banned."
Talking to Quint about the same issue, Leena says, "These people have nothing to do with faith. Their fuel is hate. These are the elements backed by the current fascist Hindutva fundamentalist regime and their only aim is to divide the people of this country and harvest the hate as votes. These are the ones who are hounding the journalists, activists and artists of this country and slow brewing a genocide of minorities."
On Tuesday, FIR gets lodged against Leena Manimekalai in UP and Delhi. Several other states plan to ban her film. Meanwhile, Mahua Moitra takes to Twitter to write how her statement was taken out of context. She tweets, "To all you Sanghis-lying will NOT make you better Hindus. I NEVER backed any film or poster or mentioned the word smoking. Suggest you visit my Maa Kali in Tarapith to see what food and drink are offered as bhog. Joy Ma Tara."
Mahant Raju Das of Hanuman Garhi temple in Ayodhya issued a threat to filmmaker Leena Manimekalai on Wednesday. He referred to the Nupur Sharma case and said the director is inviting the same threat as the suspended BJP spokesperson. Talking to the reporters, Mahant said, "Look at the recent events. When Nupur Sharma said the right things, it sparked fire across India, and across the world. But you want to insult the Hindu religion? Kya chaahte ho, tumhara bhi sar tan se juda ho jaaye (Do you also want your head to be separated from your body)? Is this what you want?" He further called Leena's documentary an 'insult to Sanatan dharam and Hindu gods and goddesses.'