Kareena Kapoor Khan Heads To Goa For Amrita Arora's 40th Birthday Bash With Saif Ali Khan, But Where Is Taimur Ali Khan? See Pic
The gang is off to Goa.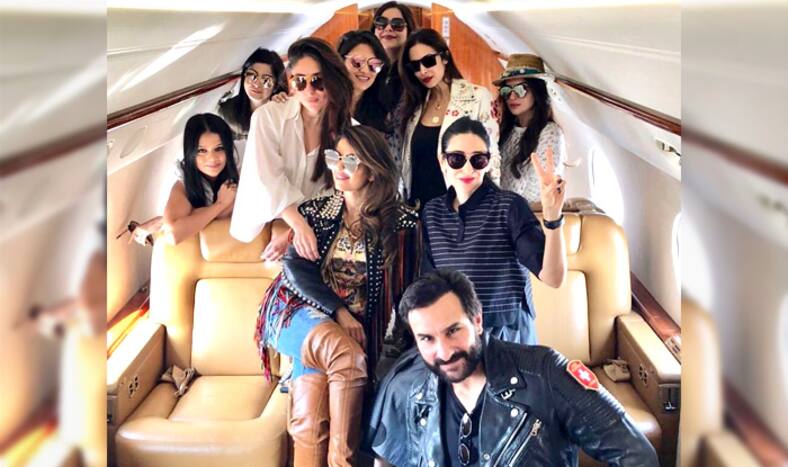 Kareena Kapoor Khan, Saif Ali Khan, Karisma Kapoor and Malaika Arora are off to Goa. The Veere Di Wedding actress has left with her girl gang to Goa to bring in Amrita Arora's 40th birthday bash. While we are really happy to see the gang having fun, we really miss Taimur Ali Khan. He would have really made the picture cuter with his presence. While Amrita generally takes off for a vacay with her husband on her birthday, this year, her girl gang had made a plan since it is Amrita's 40th's birthday and they wanted it to be special for her. Malaika shared a picture from the flight where Kareena and her girl gang are posing with Amrita and Saif. Malaika took to Instagram and wrote, "Lets get this party started……. ammuuuuuu @therealkarismakapoor @maheepkapoor @seemakhan76 @mallika_bhat @dollysidhwani @rozz_truly @natasha.poonawalla #bebo #ammuhottyat40#happy #40#saifu#happyhippee#goa" (ALSO READ: Taimur Knows How To Give The Perfect Shot Just Like Mom Kareena Kapoor Khan! View Pics )
While Kareena looked stunning in a flowy white top and denims, Amrita looked all set for her birthday in a studded jacket and thigh high boots. They were joined by Seema Khan, Maheep Kapoor, Mallika Bhatt. While talking about the bash, a source told Pinkvilla, "They left today morning by a private charter and reached Goa around 1:30 pm. On reaching, they drove to Amu's villa which is on Anjuna Beach. Kareena has even picked Amrita's favorite cake which they plan to cut tonight "
The entertainment portal also added that this was a surprise planned for Amrita by Kareena and sister Malaika. In fact, when she saw her girl gang at her doorstep, she screamed in excitement and joy. Earlier when Amrita asked everyone if they would join her for her 40th birthday celebrations, they had denied and said they were busy.