live
Kiara Advani – Sidharth Malhotra Wedding LIVE Updates: Sidharth-Kiara Share First Pics Post Wedding
Kiara Advani - Sidharth Malhotra Wedding Live Updates: Delhi Bandwalas have finally arrived for the big fat Indian wedding at Suryagarh Palace, Jaisalmer. - Watch Video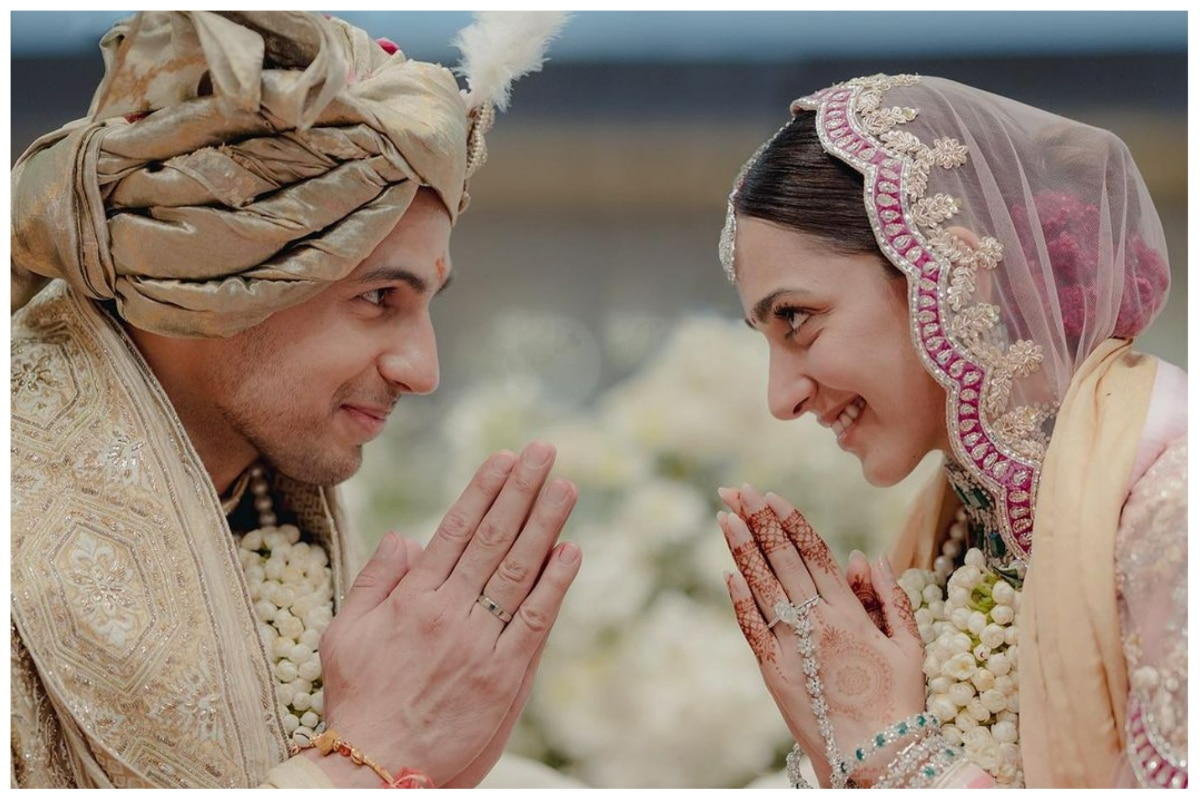 Sidharth Malhotra – Kiara Advani Wedding Live Updates: Kiara Advani and Siddharth Malhotra are finally married. The wedding took place on February 7 in Jaisalmer's Suryagarh Palace. Sidharth and Kiara shared their romantic and candid pictures from the wedding on their Instagram handles. The wedding festivities started with haldi and mehendi ceremonies at the Suryagarh Palace yesterday. The Mehendi Sangeet night was on Sunday and February 6 was for Haldi. The entire giant venue amidst the desert sand dunes is decked with fresh flowers. Sidharth and Kiara will also host a wedding reception for the media in Mumbai on February 12, 2023. Juhi Chawla has also arrived for the wedding.
On Sunday night, Kiara Advani's childhood friend and schoolmate, Isha Ambani also arrived in a private plane. Guards are stationed with weapons all around Suryagarh and using mobile phone is just not allowed inside the premises. Sidharth and Kiara have entrusted the responsibility of managing the security to three agencies. One is run by Shahrukh Khan's former bodyguard Yaseen Khan. More than 100 guards of this agency have been deployed in the hotel. They will be responsible for the security of about 150 guests attending the wedding.
Siddharth and Kiara are staying at the Thar Haveli built within the Suryagarh complex. The haveli consists of two mansions. Each mansion has three rooms, a private swimming pool, and a dining room. Kiara will stay in one and Siddharth in the other.
Check LIVE Updates From Sidharth Malhotra – Kiara Advani's Wedding
Live Updates
Kiara Advani – Sidharth Malhotra Wedding: Karan Johar Pens Emotional Note on Sidharth-Kiara's Wedding
Karan Johar known for making films on human relations with his larger-than-life storytelling dedicated an emotional note to the newlyweds, Sidharth and Kiara. The filmmaker shared a romantic photo of the couple and captioned his post as, "I met him a decade and a half ago…. Silent, strong and still so sensitive…. I met her many years after… silent , strong and so sensitive in equal measure…Then they met each other and I realised in that moment that these two pillars of strength and dignity can make an irreplaceable bond and create the most magical love story together…. Watching them is a fairy tale that is rooted in tradition and family…As they exchanged vows on a mandap of mohabbat everyone around them felt the pulse…felt the energy… I sat proud, elated and bursting with only love for the two of them! I love you Sid…. I love you Ki…. May today be your forever….."

Kiara Advani – Sidharth Malhotra Wedding: Alia Bhatt Comments on Sidharth-Kiara's Wedding Post
Alia Bhatt sent her best wishes to the newlyweds, Sidharth and Kiara on their wedding. Commenting on their romantic wedding pics, Alia wrote, "Congratulations".

Kiara Advani – Sidharth Malhotra Wedding: Samantha Ruth Prabhu, Anil Kapoor And Maniesh Paul Wish The Newlyweds
Sidharth and Kiara have a time to rejoice as they enter a new chapter in their lives. Anil Kapoor commented on their wedding photo and wrote, "Congratulations." Maniesh Paul commented, "Congraaaaaaats you twoooo." While Samantha Ruth Prabu and Diana Penty also sent their best wishes."

Kiara Advani – Sidharth Malhotra Wedding: Rakul Preet Singh Drops Romantic Post on Sidharth -Kiara Wedding
Rakul Preet Singh congratulated Sidharth and Kiara on their wedding as she took to her Instagram stories. She added a romantic caption to her post. Rakul, who has been Sidharth's co-star in 'Thank God' and 'Aiyaary' shared the photo of Sidharth kissing Kiara at the wedding and added the song 'Ishq Waala Love' in the background. She captioned her post as, "Congratulations you two…may this be the beginning of forever waala love…God bless….@sidmalhotra @kiaraaliaadvani"

Kiara Advani – Sidharth Malhotra Wedding: Shahid Kapoor Mira Rajput Get Papped as They Return From Jaisalmer
Shahid Kapoor and Mira Rajput were clicked by paparazzi at the Mumbai airport as they returned from Jaisalmer after attending Sidharth Malhotra and Kiara Advani's wedding. Shahid wore a white t-shirt, blue ripped jeans and white shoes. While Mira donned a black t-shirt paired with black track pants and sports shoes.

Kiara Advani – Sidharth Malhotra Wedding: Manish Malhotra Pens Heartfelt Note For Sidharth Kiara
Manish Malhotra wrote a sweet note congratulating Sidharth and Kiara on their wedding. He captioned his post as, "Lots and lots of Love and blessings to the beautiful couple Mrs and Mr Malhotra."