Oscars 2023: Guneet Monga Speaks on Winning The Trophy For India With 'The Elephant Whisperers' | Exclusive
Oscars 2023: Guneet Monga Speaks on The Elephant Whisperers' Chances of Winning In an Exclusive Interview With india.com.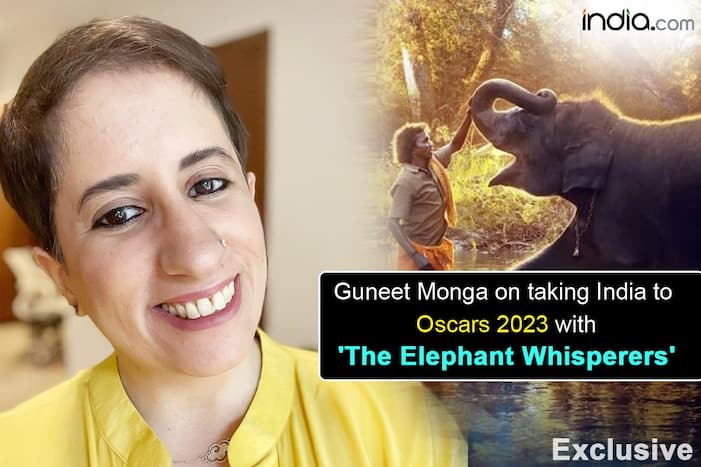 This is a special year for India and lovers of Indian cinema all over the world. The country has received three proud nominations at Oscars 2023 and we are definitely bringing many trophies back home very soon. At least, that's what producer Guneet Monga believes who is once again representing the country at the Academy Awards. This time, with her documentary – The Elephant Whisperers.
The documentary, directed by Kartiki Gonsalves, is available on Netflix and has been nominated at the 95th Oscar Awards in the 'Best Short Film' category. While speaking to india.com in a zoom interview, Guneet expressed her excitement for putting India on a global map once again. She said more than the trophy, it's the journey that matters to her. The producer, who earlier won an Oscar for producing the documentary 'Period. End of Sentence', said, "We are very grateful for the journey. It's always about the journey. We are very grateful for Netflix. We honestly feel like it's putting up a hoarding on the moon with having your film on Netflix because the whole world can watch it in 190 countries. They can experience the story of 'The Elephant Whisperers' which is a tribal story in South India."
Guneet added that whatever is happening now with the Oscar fame is all extra because they never thought about it. "Oscar nominations are beyond our dreams. I just want to say that we were already very happy. We have been on this journey for over five years and I have found a friend for life, a collaborator for life in Kartiki. If Oscar happens, bring them on. We are ready!" she said.
Apart from Netflix's The Elephant Whisperers, SS Rajamouli's RRR has been nominated in the 'Best Original Song' category for 'Naatu Naatu' and Shaunak Sen's All That Breathes in the 'Best Documentary Feature Film' category. The awards ceremony will take place on March 12 in Los Angeles.
Are you rooting for India's historic victory at the Oscars this year? We are!