Priyanka Chopra's Daughter Malti Marie Looks so Much Like Nick Jonas, Fans go Crazy After Her Face Revealed in Viral Pics
Priyanka Chopra Jonas finally revealed her daughter Malti Marie's face to the world and her fans went gaga over the cuteness that just spread on the internet this morning.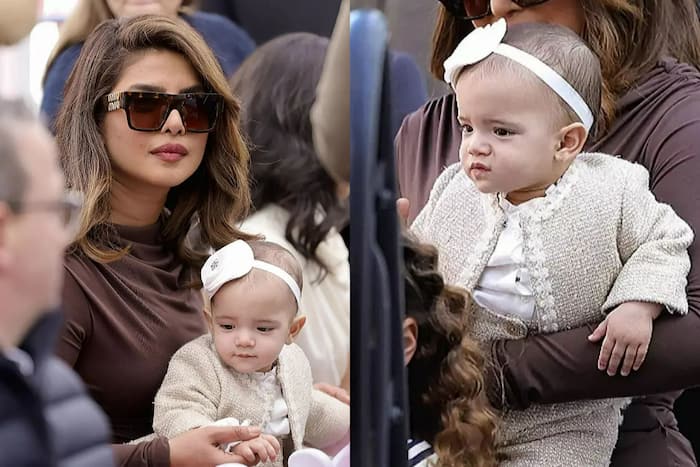 Priyanka Chopra reveals daughter Malti's face: Priyanka Chopra made fans happy on a Tuesday morning and finally showed her daughter's face to the world. The actor held her daughter Malti Marie Jonas close to her at an event and shared a few videos and pictures on social media, revealing her cute face for the first time. The former beauty queen was present to cheer for her family as her husband Nick Jonas and his brothers unveiled their 'Hollywood Walk of Fame' star. Dressed in an off-white onesie, a matching hairband, and tiny ear studs, PC-Nick's daughter entered the hearts of the fans with her cute smile.
View this post on Instagram
Priyanka's fans who have been requesting her to show the baby's face for a long time celebrated the occasion by making Malti's pictures go viral on the internet. Netizens also noted how she resembled Nick so much and was an absolute bundle of joy.
View this post on Instagram
In an interview recently, Priyanka talked about becoming a mother and enduring negative comments about her daughter with thick skin. The actor told British Vogue that it's 'painful' to see people making nasty comments about her baby. She said, "I've developed a tough hide when people talk about me. But it's so painful when they talk about my daughter. I'm like, 'Keep her out of it.' I know what it felt like to hold her little hands when they were trying to find her veins. So no, she's not going to be gossip. I've been really protective of this chapter of my life with my daughter. Because it's not about my life only. It's hers too."