Rakhi Sawant Warns Husband Adil Khan Durrani Amid Extra Marital Affair Allegations: 'I Will Expose You'
Rakhi Sawant recently warned her husband Adil Khan Durrani amid extra marital affair allegations against him.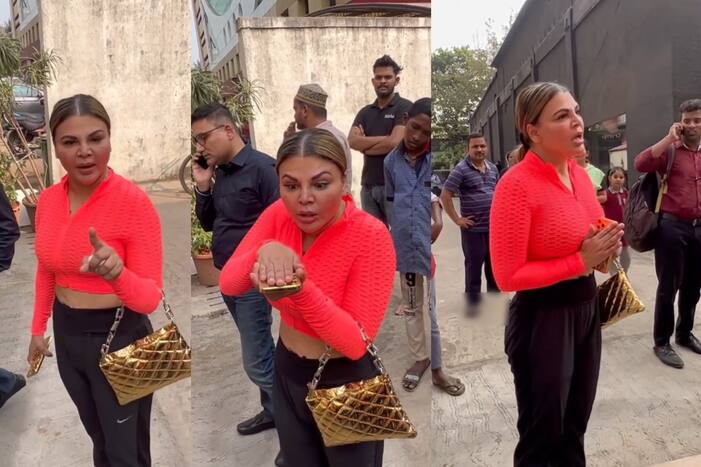 Rakhi Sawant Warns Husband Adil Durrani: Rakhi Sawant's marriage with Adil Khan Durrani is on the rocks, as alleged by the actor herself. She spoke to the paparazzi about her relationship with Adil on the verge of breaking down. In a series of videos posted by paparazzo Viral Bhayani, Rakhi looked inconsolable. She was teary-eyed as she claimed Adil has cheated on her and is having an extra-marital affair. In one of the videos, she can be seen publicly warning her husband and his girlfriend. Rakhi also stated that she is willing to forgive her husband if he puts an end to his affair. She revealed that when she was in Bigg Boss Marathi 4, the woman was blackmailing her husband, and even threatening her.
CHECK OUT RAKHI SAWANT'S VIRAL VIDEO:
View this post on Instagram
RAKHI SAWANT REVEALS ADIL KHAN IS HAVING EXTRAMARITAL AFFAIR
The actor said, "Through you all, I would like to warn the girl in Adil's life, who took advantage of the situation, when I was in Bigg Boss Marathi 4. I won't take her name, but when the time is right, I will show all their photos. Adil made me remain silent about our marriage for eight months because of his affair with that woman. I was silent till now. He denied our marriage, and later because of media he got scared and accepted our wedding." She further added, "A woman is breaking another woman's home. Men are dogs, if you go to them, they will obviously not send you away. I am warning you, I will expose you. Don't think I will remain silent like other girls. If you threaten me, I won't tolerate it." Rakhi also shared a message for Adil, and said, "You (Adil) had said that in Islam all personal issues should be discussed behind closed doors. I have done that, but you are not understanding me and my situation. Your girlfriend threatens me. I have a record of it."
Rakhi told the media, "Adil says I should not bring up our personal issues in public, but I will not suffer or end up in a fridge by keeping it all private." She concluded by saying, "I will fight for my rights as a married woman. Adil supports that girl and so she tells me confidently that he will leave me and marry her. That's why he asked me to hide marriage. I gave him 10 chances."
Rakhi is an Indian dancer, model, actress and television talk show host, who has appeared in many Hindi and a few Kannada, Marathi, Odia, Telugu and Tamil films and was a contestant on Bigg Boss 1 and a finalist in Bigg Boss 14.
For more updates on Rakhi Sawant, check out this space at India.com.