Shah Rukh Khan and Kajol along with DDLJ cast celebrate 1000 weeks of the film on Comedy Nights With Kapil – Part 2
The cast of DDLJ has a reunion on the sets of Comedy Nights With Kapil and they share stories from the sets of Dilwale Dulhania Le Jayenge.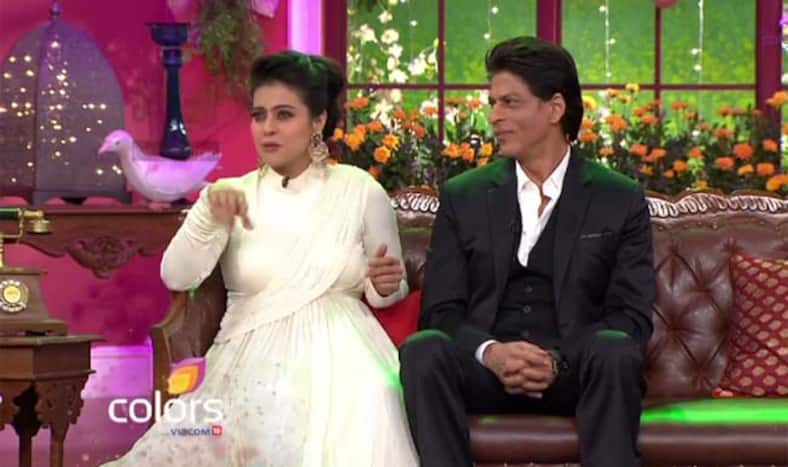 The episode starts with Kajol already seated on the couch while Navjot Singh Sidhu walks down from the balcony like Shah Rukh Khan's entry in yesterday's episode. Navjot also had a mandolin with him like the one that can be seen in popular scenes in Dilwale Dulhania Le Jayenge. Navjot Singh Sidhu says a romantic line about how there is a bit of Raj in every man.
Kapil Sharma aka Bittu Sharma enters the stage to welcome Shah Rukh Khan and Kajol but is surprised to see Najvot Singh Sidhu there. Kapil delivers another famous line from DDLJ that if he loves you then he will turn and look at you just as Navjot Singh Sidhu has to turn to sit in his seat. The audience and a Kajol have a good laugh.
Kajol and Kapil move on to Ajay Devgn and if he consults Kajol for every film he signs. Kajol says that she has trained him well and gives the back story of the famous line from Singham, Aata majhi satakli. She explains that in Bhagat Singh, Ajay Devgn had to deliver a Bengali dialogue which was coached by Kajol. After a final comment from Kapil, they conclude that Ajay Devgn is a very obedient husband.
Ajay Devgn is doing a lot of films which are commercially successful even if they make not sense so Kapil asks which heroine does she like Ajay Devgn paired with. Kajol is very straight faced when she says that she likes Ajay Devgn paired with herself best, on and off the screen. Kapil jokes that we get to know today that Singham's wife is also Singham.
Kapil says that if Navjot Singh Sidhu can play the role of Raj then he can also do it. He tries to play the role of Raj as the instrumental mandolin music plays and as expected, Shah Rukh Khan walks on stage leaving Kapil embarrassed. Shah Rukh asks the support staff to play the music so that he can teach Kapil the way to play Raj's role. Kapil then shows a clipping of Ruk jaa oh dil deewane where after the dance, SRK drops Kajol. Kapil asks how Kajol managed to love SRK as Raj in the film after such a big drop. She reveals that she was not told that she would actually be dropped and that her shocked expression was real. SRK jokes that he didn't even see Kajol because he was enjoying being applauded by the audience.
Anupam Kher and Farida Jalal are invited o stage as they played pivotal roles in the plot of the film. Mandira Bedi and Pooja Ruparel are also invited on stage and given wooden stools to sit. Kapil asks Farida Jalal to answer how many times Amrish Puri and Shah Rukh Khan said the word "Aao" in the scene where both of them are feeding pigeons in the field full of mustard plants. Shah Rukh pulls her leg about her not being able to remember how many pigeons there were and gets mock beaten up by Farida Jalal. Make sure you watch the episode, here's a sneak peek into what you can get to see in the episode.