Sofia Hayat marries husband Vlad Stanescu at Temple of Awakening; makes controversial remarks on God!
Sofia Hayat now calls herself the creator of universe!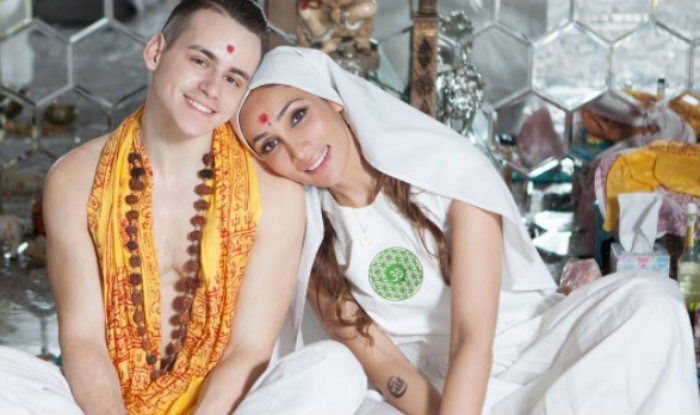 After an Egyptian marriage, model-actor-nun Sofia Hayat is all set to hitch once again to her Romanian husband Vlad Stanescu and this time in a rather simpler way. Her first wedding had Gods Goddesses Fairies and angels' theme with everyone including the bride and groom dressed in royal attires and a specially designed chariot for the bride Sofia. This time the couple got married at the Temple of Awakening. Sofia Hayat has been in news owing to her controversial remarks and statements about becoming a nun and her personal life.
She shared several pictures of her third wedding on Instagram and captioned them with long posts. Some of her posts caught our special attention as she referred her husband Vlad as her son, her father and at last as her husband. Also the Gaia Mother is now Allah Maa and Goddess Isis. This controversial Bigg Boss contestant had once vowed to never marry and have sex or children. But now she calls sex and sexual pleasures divine. (ALSO READ: Sofia Hayat's grand marriage with Romanian beau Vlad Stanescu is nothing less than a fairytale! View all inside pictures here)
In her post, the actress wrote, "Spiritual beings are sexual..God is sexual. The orgasm is the Goddess energy..Allah maa energy that created everything. It is divine. The sacred Orgasm. Allah hu Akbar. OM namah Shivaya! Anyone repulsed by this is repulsed by how they were born. Who made you think like this?" (ALSO READ: Sofia Hayat gets MARRIED, Rakhi Sawant congratulates her (see picture)

She also writes, "He who was our father who art in heaven has finally stepped down and apologised for taking my light and claiming it as his own. He is sat next to me. My son.. My father my husband..Vlad..yaldaboath..is now love and in Knowing..the illuminate cannot feed off him now. He has woken up and serves Love. We have already won! We are from Orion. Sirius is here. It is done it is done it is done as my will be done. I am Sofia. I am Allah Maa. Goddess Isis. Mary…tne holy spirit..the orgasm of all things in the universe. Rise up. Aho!"
She also shared a nude picture of a couple on her social media profile which we are not sure is her. She captions the image with a sensuous message that reads, "When one can create a sensual experience, it does not allow the sexual energy to override, but allows a sense of touch to be expressed. When a man touches a woman, there is an exchange of energy and the woman guides the energy so that the hand that's being moved by the man is being guided in a telepathic representation of the energies exchanged on the surface of the skin. And it doesn't matter of you're gay or bi or lesbian, you are still a human being with the fundamental rules of a sensual experience, and the sensual experience is the exchange of heart based love, not sexual love from the sexual organs and the sexual energies.  And the sensual experience is what will lead into true equal experiences that will heal the divine masculine and divine feminine in such a way that they can break a lot of the reality programs that they have. -Andrew Bartzis"