Sunny Leone : Asher And Noah Are Our Biological Children Born Through Surrogacy
"Our family is complete," says Sunny Leone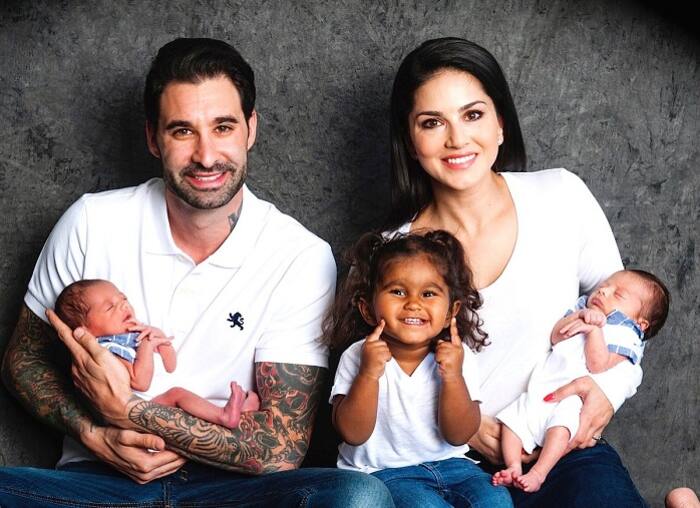 Sunny Leone and Daniel Weber have become parents for the second time to adorable twin boys, Asher Singh Weber and Noah Singh Weber. The actress couldn't contain her happiness as she took to Twitter to announce the news with a heartwarming tweet. The couple had adopted, their first child, 21-month-old, Nisha Kaur Weber, from an orphanage in Latur, last year and now with the addition of the twins, Sunny said that her family was complete.
In a statement to the media, Sunny said, "This is truely God's Plan! We didn't know we were going to have a chance to have such a big beautiful family. We are beyond overjoyed and are truly blessed to have all 3 miracles in our life. Our family is complete. The Weber's!! Lol" . Sunny further added that they chose to do surrogacy with a fertilized egg from Daniels genes and her genes. "Asher and Noah are our biological children and God sent us a angel surrogate to carry our boys until they were born," she said. Daniel, on the other hand, said, "This is an amazing new chapter of our life and I believe the great chapter of all. We have been blessed with an amazing journey and looking forward to many more great things ahead. Proud Family!!!"
The couple had been trying to have a family for the longest time and now their dreams have finally come true. Last year, after adopting Nisha, Sunny was quoted as telling Hindustan Times, "It's a responsibility for the rest of our lives. But we have been ready for that — physically, mentally and financially. We were working really hard because we wanted to start a family, and this is the way it's going to start, so it's amazing." Well, we couldn't have been happier for Sunny and Daniel. Congratulations to the happy couple!