Bigg Boss 12 November 23 Written Update: Megha Dhade Nominated For Next Week, Jasleen Matharu Breaks Down Inside Jail
Bigg Boss 12 Latest Update: Jasleen Matharu, Rohit Suchanti and Megha Dhade go to kaal-kothari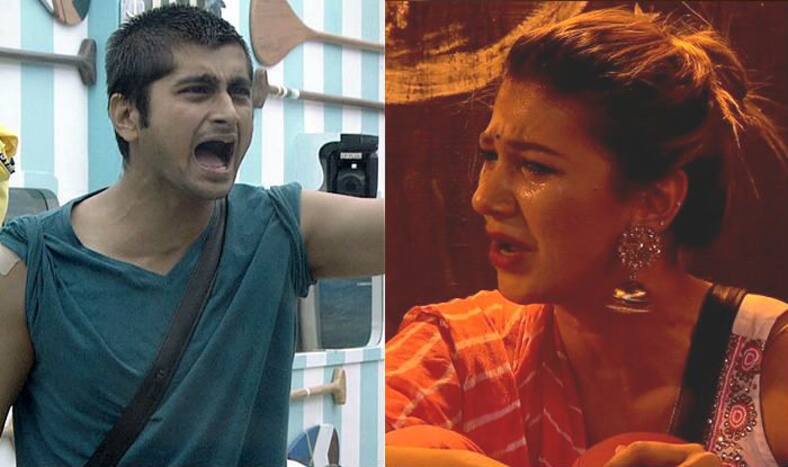 Bigg Boss 12 Latest Update: Deepak expresses his anger on Megha's behaviour. He requests Bigg Boss to take notice of the incident. Megha tells him that she didn't intend to spit on him but on the floor instead. Bigg Boss tells everyone in the house that what Megha did with Deepak is highly condemnable. He also announces that Megha crossed her line while arguing with Deepak. He then nominates Megha for the eviction next week and asks the contestants to not let themselves loose when get provoked in the house. Deepak goes to the confession room and Bigg Boss tells him that he himself used improper words for her that he should not have. He then tells Deepak that Megha has done wrong and has been punished for the same but he should not think that he was right on his part.
Surbhi and Romil tell Megha that she should have a control over herself. Surbhi speaks to the camera about Sreesanth and expresses that she thinks he sometimes takes advantage in the game of what happened to him in his past life. Surbhi then goes outside and Deepak asks her to sit with him, Romil and Shrishty. They discuss the happy club while Romil says that till the time he's alive in the game, the Happy Club is active.
The day 68 begins on the tunes of 'Aaja Meri Gaadi Me Baith Ja…'. Captain Surbhi delegates the house duties. KV and Sreesanth argue over kitchen cleaning. Dipika tells Surbhi that she has no problem in performing any house duty. Surbhi takes offense of Dipika's statement when he tells her that she became the captain because she and her group supported her. Deepak teases Sreesanth and Dipika in the bathroom. Dipika and Sreesanth then get involved in an argument with Deepak.
Romil talks to Sreesanth in the washroom after the latter tells him that he will hit Deepak very bad. Romil then calls Deepak inside the washroom and asks Sreesanth to hit him then. Megha interrupts in between and tells Romil to make Deepak understand he shouldn't be annoying others too much. Sreesanth and Deepak then get involved in another big argument.
Meanwhile, Surbhi and Shrishty discuss in the house that Deepak provokes too much. Surbhi talks to Dipika inside the locker room while telling her that she didn't like her previous statement. In the parallel, Megha gets into a new argument with Deepak and Rohit also joins in. Dipika and Surbhi try to sort out the issue. Megha and Dipika decide they will speak out from now on.
Bigg Boss asks the contestants to choose three contestants to be sent to the prison this week. He announces a task for the same. Megha asks the contestants to not name her for what she did with Deepak since she has already been punished by the Bigg Boss. Rohit reacts to this and says she will be nominated by him because she hasn't been punished by any housemate. Dipika tells Deepak why she might take his name. Jasleen tells Deepak that she will decide which name to take when the gong will make a sound.
The gong buzzes and Surbhi goes first to fill the container with Megha's name with a glass of water. Megha doesn't like it and tells Dipika that nobody in the house sees the contestant who provokes others to act in an inappropriate manner. The gong rings again. Jasleen is given a chance and she takes Rohit's name.
Romil then has a discussion with Deepak and Rohit over not wasting their chances to vote. They decide to first keep Megha out of the game. The gong buzzes again and Romil goes to take Megha's name. Surbhi announces that the container on Megha's name is filled and therefore, she will have to go to the kaal-kothari. The gong rings again and Surbhi takes Jasleen's name. She fills the container on her name with water. The gong rings again and Surbhi once again takes Jasleen's name. Now, the container with her name is filled with water, which means she's the second contestant to be going inside the prison. Jasleen feels very offended and calls Surbhi's behaviour 'pathetic.'
Deepak once again goes to argue with Megha. Dipika expresses her dissent with Surbhi's decision of sending Jasleen to the prison. Surbhi tells her back that it's not necessary that her decision falls at par with her expectations. Jasleen breaks down inside the prison. Romil asks Megha to go and convince her. Jasleen expresses her disappointment with Surbhi's decision. The gong buzzes again and Deepak gets the chance to take a name. He chooses Dipika and pours water in the container with her name. The gong buzzes again and KV steps-on. He also takes Dipika's name. The container with her name gets filled and she becomes the third contestant to be going inside the kaal-kothari.
Jasleen and Sreesanth tell Romil that he's a changed man now. Shrishty falls sick and throws out as Surbhi, KV and Rohit help her out. Surbhi asks Rohit to get Appy Fizz for Shrishty. The three women inside the jail take objection to the same calling it a theft of Appy Fizz. Bigg Boss takes notice of the incident and slams Rohit for stealing Appy Fizz again and again. He asks Rohit to bear the kaal-kothari punishment and Surbhi to call one contestant out from the jail. Surbhi calls Dipika out and locks Rohit inside. Shrishty feels bad for Rohit since he stole this time to ensure her well-being. Megha and Jasleen tease Rohit. Surbhi and KV discuss how Bigg Boss just slapped them back with his latest decision for not putting Rohit initially inside the jail. The pre-cap of the next episode shows Salman taking Deepak and Megha's class. Watch out this space for all the latest update on Bigg Boss 12.