This Naughty Cake Cutting Video From Amrita Arora's Birthday Bash With Kareena Kapoor Khan And Malaika Is Going Viral!
You cannot miss this video!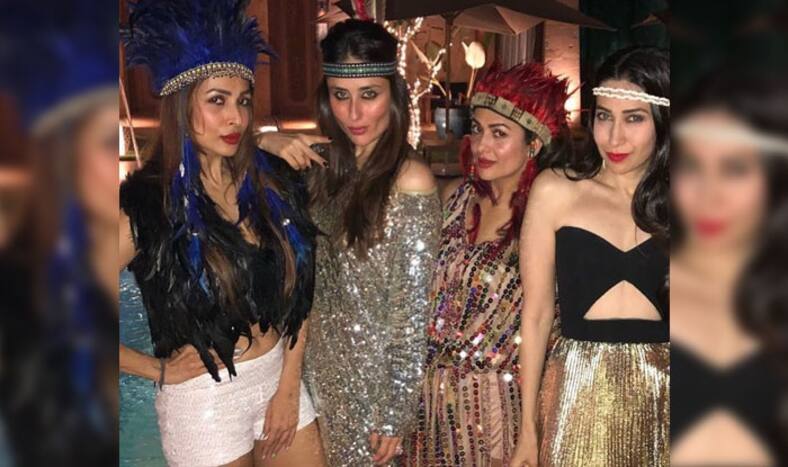 Amrita Arora turned 40 today. For this, her girl gang including Kareena Kapoor Khan, Malaika Arora, Karisma Kapoor, Maheep Kapoor, Seema Khan left for Goa to bring in her birthday. Kareena and Malaika made sure this party is super special for the birthday and arranged for a fun boho themed party. Fire dancers were seen in the backdrop where the girl gang is seen having a crazy time. We have been updating you with every small detail about the party since yesterday beginning from the first pics while leaving for Goa to the girls chilling by the pool to the inside pictures of the glamorous party. But the most talked about moment from the party is Amrita cutting the cake. This naughty cake cutting video from the birthday bash is going viral. (ALSO READ: Kareena, Karisma Kapoor, Malaika Make Amrita Arora's Birthday Party A Glitzy Affair (Pics, Videos) )
In this video, you can see Amrita cutting a kinky cake which you generally spot at bachelorette parties and Malaika is seen embarrassing her little sister while she cuts the rather naughty cake. Amu seems to be totally awkward while the gang is cheering for her during the cake cutting. Check out the video below if you don't believe. And, make sure you plug your earphones when you watch it because you do not want to get judged.
Along with the girl gang, Saif Ali Khan was also spotted at the party having a crazy time with everyone. The group left for Goa last afternoon in a private jet and on landing there, they headed straight to Arora's villa which is at Anjuna Beach. The Veere Di Wedding actress and Malla planned this crazy surprise party for Amrita.