Naagin 5 September 27 Maha Episode, 2020 Written Update: Adi Naag Attacks Adi Naagin, Bani Saves Veer
Naagin 5 September 27, 2020 Written Update: Know Here All That Happened in Tonight's Episode.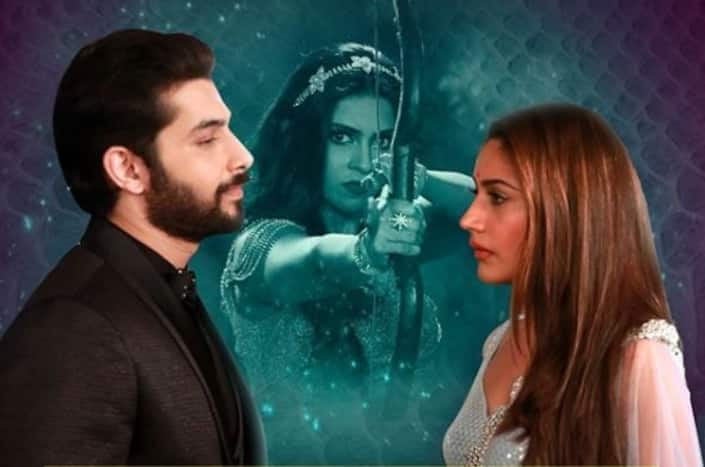 Naagin 5 September 19, 2020 Written Update: Tonight's episode begins with Mayuri making Veer furious over his relationship with Bani. She called their marriage an 'open relationship' and not a particular husband-wife relationship. Bani, on the other hand, goes to the Cheel temple where Veer's brother's dead body is kept and plans to expose it to the moonlight that will affect the dead and make Veer go angry. Veer feels angry and powerful like never before. Mayuri comes to Veer and informs him that Bani is in the cheel temple and he goes to the temple. Shukla and Mayuri also reach the temple while Veer looks for Bani. Veer tells Bani to keep the coffin to the place from where she slid it. Veer and Bani get into a fight. Meanwhile, Shukla and Mayuri wait for Veer to attack Bani, the moment when they will shoot Bani with the arrow to get all the powers of Adi Naagin.

Veer holds Bani tightly and Mayuri, Shukla and Jay shoot their respective arrows but it gets missed but Naag Raj's arrow touches Veer leaving him unconscious. Bani gets confused. Jay reveals his true self and the hatred he has in him for Adi Naagin, all because Lord Shiva gave all the powers to Adi Naagin and not to the Adi Naag. He reveals that he joined hands with Mayuri only to kill Adi Naagin and take away her powers. Veer gets poisoned with the powerful Naag Mani poison. Veer's father threatens Mayuri and asks her if she poisoned him. Bani goes to the Naag temple to get the herbal medicine to treat Veer. Mayuri informs Jay to stop Bani from getting the medicine. Jay goes to the temple and asks the priest to give him the medicine to treat Naag Mani poison. The priest gives him the pot of medicine. Bani reaches the temple to get the medicine but Jay holds the priest so that he can't tell Bani that Jay has taken the medicine.

The priest takes the medicine from the priest and Jay makes him fall down as the pot fell inside a pot of water. Jay kills the priest with the Naag poison. Bani puts the wrong medicine on Veer but he does not get up making everyone in the family worried about Veer. The poison spreads in Veer's body eventually. Bani being the Adi Naagin has the power of swallowing all kinds of poison and hence she swallows all the poison in Veer's body making him conscious again. Mayuri informs Jay that Bani has saved Veer making Jay furious. He understands that Veer and Bani are getting closer which will be harmful to him.

Veer's brother tells him that Bani saved him after he was poisoned with Naag Mani. Bani tells Veer that she wants to get rid of this marriage but Veer says that he will never let her get rid of him and their marriage. Veer goes to the Cheel temple and learns the coffin in which his brother's dead body is kept was hidden and the fake coffin was the one that Bani was dragging only to him angry. Veer asks Bani for clarification for her acts and she says that even after she tried to make him angry, he did not harm her and when it came to his life, it was her duty to save him. Veer and Bani plan separately to find out their hidden enemy.
Veer goes to Mayuri's roo who is furious over her failed plan and tells her that he doubts she tried to kill him with the poison. Jay plans to enter Singhania's house to execute his plan. Veer doubts Mayuri and plans to keep an eye on her. Mayuri gets worried and thinks that she has to attack Veer and Bani soon. Veer's brother Pompi announces to the family that he loves Mayuri and will marry her soon. The announcement makes Bani wonder about Mayuri's next plan and if the wedding is a part of the plan. Pompi proposes Mayuri in front of his family and friends.
Jay comes to Singhania house to meet Bani and tells him that somebody attacked him. Jay asks why did she save him and she wonders how did he know that she saved Veer. Jay tells her that she knows her and that's how he knows that Bani saved Veer. Bani says that she can't kill Veer when he is on the death bed. Bani tells Jay that Singhanis's are celebrating Pompi and Mayuri's engagement and he wonders when Mayuri made this plan.
Stay tuned for the latest updates!