Watch what happened when Christina Grimmie sang Wrecking Ball in her blind audition for The Voice!
On June 10, Christina Grimmie was shot while she was signing autographs following her performance at The Plaza Live in Orlando, Florida.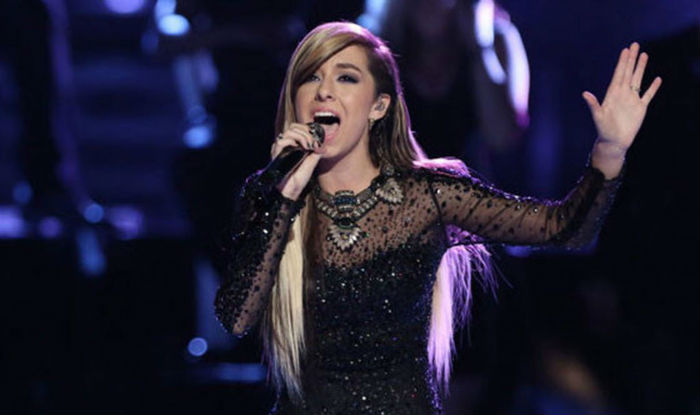 Music lovers couldn't believe when they heard that their favourite singer Christina Grimmie was no more. On June 10 the US-based singer was shot while she was signing autographs following her performance at The Plaza Live in Orlando, Florida. The 22-year-old star who rose to fame with The Voice was widely popular among teens and youth and something what they recall today is her mind-blowing blind audition for the show that left everybody stunned. Christina was a sensation since then. Judges of the show Adam Levine, Shakira Usher and Blake Shelton were thrilled when they heard Christina singing Miley Cyrus's hit song Wrecking Ball.
The blind audition of Christina Grimmie is something fans and judges of The Voice will never ever forget. All the four coaches turned their chairs when they heard her singing hitting the perfect note. There were loud cheers from the audiences. Judges who turned their chair in less than 15 seconds after hearing Christina were Usher and Shakira. And in the next five seconds Adam turned his chair too and later Blake. She was just fabulous. Christina's power-packed performance caught each celebrity coaches attention and she even received standing ovation from them. (ALSO READ: US singer Christina Grimmie from 'The Voice' shot dead after her concert in Orlando)
The judges believed in her so much that it was told to her she will become a huge star. Christina Grimmie was incredible! At the end Christina picked up Adam Levine as her coach. When it was confirmed yesterday (June 11) that Christina Grimmie passed away, many singers posted on Twitter about the memory they shared with the young singing sensational. Here are some of the tweets: (ALSO READ: US police ID suspected killer of 'The Voice' star Christina Grimmie)
So much talent, beauty & kindness stolen from this world. I feel so sick, you will be greatly missed #ChristinaGrimmie #RIPChristina

— Arden Cho (@arden_cho) June 11, 2016
Rest in peace #ChristinaGrimmie I'm so sorry

— Cailin Russo (@cairusso) June 11, 2016
It's hard when people go away but some will always stay with you even when they are gone . Because they changed you #ChristinaGrimmie #rip

— Natasha Bedingfield (@natashabdnfield) June 11, 2016
So heartbroken to hear about #ChristinaGrimmie my heart goes out to her family. Rest in peace, beautiful

— Bethany Mota ∞ (@BethanyMota) June 11, 2016
Behati and I are absolutely devastated and heartbroken by Christina Grimmie's death. Our hearts go out to her family pic.twitter.com/y4OMkm0uXu

— Adam Levine (@adamlevine) June 11, 2016
My heart is absolutely broken. I miss you Christina pic.twitter.com/KWGwZZlj4t

— Selena Gomez (@selenagomez) June 11, 2016
I'm stunned and disgusted and heartbroken that we lost that sweet little girl… Keeping @TheRealGrimmie family in my heart and mind.

— Blake Shelton (@blakeshelton) June 11, 2016
To an amazing soul and voice…may your legacy live on forever. Rest in peace beautiful, Christina

— Usher Raymond IV (@Usher) June 11, 2016
The world will miss this beloved star of The Voice. Rest in peace Christina Grimmie! You'll always live in our hearts.