What Makes Yeh Jawaani Hai Deewani Timeless? A story With a Beating Heart, Says Debutant Director Taranveer Singh
In an exclusive conversation with india.com, director Taranveer Singh talks about how 'Tuesdays And Fridays' is all about the filmy romance and the audience's love for rom-com that never went away.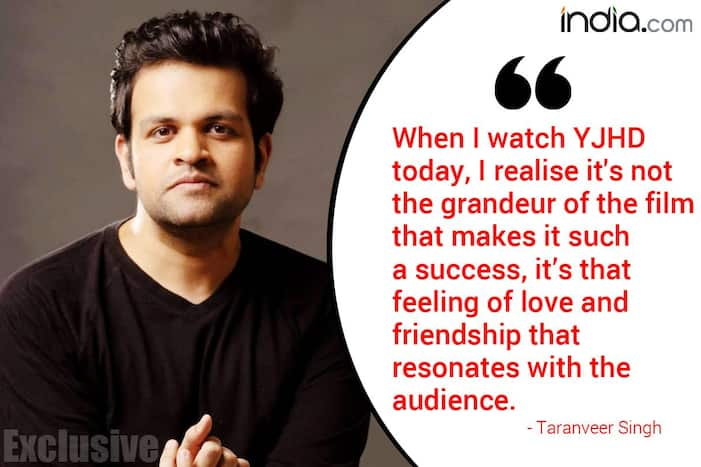 Director Taranveer Singh, who has worked as an Assistant Director on Yeh Jawaani Hai Deewani, and Karthik Calling Karthik, is debuting as a director with a Sanjay Leela Bhansali and Bhushan Kumar-basked movie titled 'Tuesdays And Fridays'. The film is a love story – starring veteran actor Poonam Dhillon's son Anmol Thakeria Dhillon, and former Miss India Jhatalekha Malhotra. While it may look like a launchpad for so many fresh names associated with it, the film takes you back to the world of romance that Shah Rukh Khan has established, or Ranbir Kapoor has carried forward.
Taranveer, does being backed by big production houses when you're making your directorial debut comes as an extra responsibility?

For sure. When someone like Bhushan Kumar and Sanjay Leela Bhansali decide to put their name on your film, you automatically have that pressure of making sure you offer a product polished enough to be worthy of their legacy.

What was so interesting about the story that you decided to debut as a director with this film?
Being an ardent fan of the romance genre, I've grown up on bollywood romances by Yash Chopra and Karan Johar. So as a debut film, I wanted to present my take on the kind of rom-coms that influenced me, but with a twist interesting enough for the industry to take notice of me as a story teller. And I feel Tuesdays And Fridays offered me that opportunity.
The film looks like a launchpad for so many people together including you and the two lead actors. Were there any apprehensions about having debutants on board when you are yourself directing for the first time?
See this is where having two huge names as the producers backing the film was an absolute boon. Yes it's a debut for both the lead actors as well as me, but I knew if I stay within my given budget and make the film with utmost sincerity, it would be a financially feasible product. So all I had to do was make sure I tell my story honestly and present my two debut leads in the best way possible given the super tight budget we had at our disposal. And I really hope the film manages to do that.
 You have worked in some fabulous movies like YJHD and KCK – two things that you got to learn while working on these movies – something that has mentally prepared you to be a director.
You learn something everyday you are on a film set. 'Karthik Calling Karthik' was my first film as an assistant straight out of film school. And it happened to be the directorial debut film of the lovely ad film director, Vijay Lalwani. Working on KCK gave me first hand experience of what it is like to make your first film as an outsider for an illustrious banner like Excel Entertainment. I got to shadow Vijay from script narrations to music sittings and it was like a rigorous additional year of film school in the best way possible and with the most adorable teacher/partner I could've asked for.
Yeh Jawaani Hai Deewani, was a dream come true, as I was a big fan of Wake Up Sid, which released while I was working on the post production of 'Karthik Calling Karthik', and I really wanted to work with Ayan Mukerji. Add to that, it was a film with Dharma Productions, making it the best next step in my career. YJHD was the first time I worked on a truly big budget film, shot almost entirely with two cameras, but what I really learnt from Ayan is that all that is just packaging. The big sets, beautifull costumes, etc are all add ons to what most importantly needs to be a story with a beating heart that connects with the audience. Even when I watch YJHD today, I realise its not the grandeur of the film that makes it such a success, it's that feeling of love and friendship that resonates with the audience. That is where the magic of Ayan as a storyteller lies, and I hope I can make people feel that way with my film even if only in a few scenes. Fingers Crossed.