Ananta Chaturdashi 2018: Best Ganpati Messages, WhatsApp And Facebook Status, Quotes, Wishes, SMSes And Greetings to Share
People gather on the roads to see huge Ganesha idols from popular mandals as they make their way towards water bodies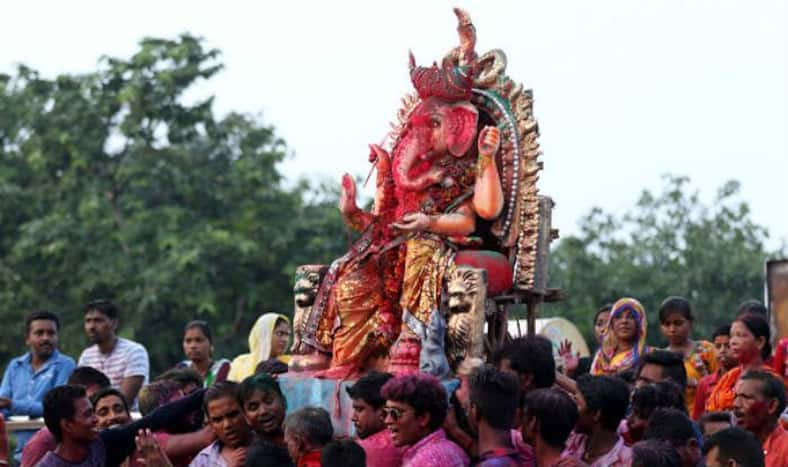 Today, September 23, marks the celebration of Ananta Chaturdashi which means the final day of 10-days long Ganesh festival. In Maharashtra, thousands of people will take out processions with a lot of fervour and immerse the Ganpati idol into water. During the visarjan people dancing relentlessly without giving a bother about anything in the world and shouting slogans of "Ganpati Bappa Moraya". It is a splendid sight to witness Ganpati visarjan in Mumbai that is preceded by large processions. People gather on the roads to see huge Ganesha idols from popular mandals as they make their way to the popular visarjan spots of the city.
Ganesh Visarjan is the process of immersing the Ganesha idol into the water. The ritual marks the end of the festival, which is celebrated in an especially grand fashion across Maharashtra. During the Visarjan, the idol is immersed into the water body like the sea, lake, pond etc, and a final offering of sweets, flowers and coconuts is made to the idol. The street processions during this day are a feast for the eyes, with fervour and devotion in the air and dashes of colour flying everywhere. The air rings with celebrations and jubilation, as devotional and upbeat songs are sung and played, in the praise of the mighty Ganesha. Thousands of devotees join the street processions and travel miles on foot to bid good bye to their favourite God. Here we bring you some of the best quotes to share with your loved ones.
Check out the quotes here:
The festival that is generally celebrated over a period of 10 days, but the immersion happens on several different days like the third, fifth, seventh days. Each day has an auspicious timing, which is considered holy and it is advised that the idol is immersed at that time, to maximize the blessings received by the people. The slogans are a part of the revelry when the idol is being taken to be immersed into the water body. Before the idol is taken to be immersed into water, there are certain rituals that are performed and offerings are made to it. The offerings consist of flowers, sweets, coconut and oil.