Chaitra Navratri 6th Day: Worship Maa Katyayani, the 6th Avtar of Goddess Durga; Maa Katyayani Mantra for Puja
Maa Katyayani is a 'Warrior' Goddess' and is one of the violent forms of Maa Durga.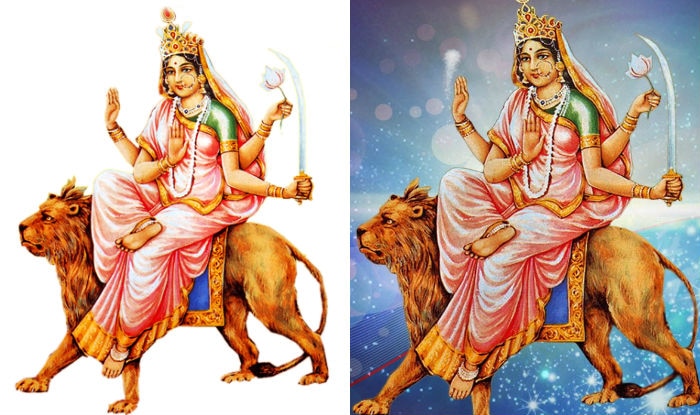 The 6th day of Chaitra Navratri festival is 23rd March and is dedicated to Maa Katyayani, the 6th Avtar of Goddess Durga. Once there was a great sage named Katya and it was his wish that Maa Durga be born his daughter. He practiced austere penance for several years to please the Gods. The trinity of Gods – Brahma, Vishnu and Shiva – got enraged and they designed Goddess Durga, who was an end result of the abilities of all deities. Since she was born to Katya, she was called Katyayani. Maa Katyayani has 3 eyes and 4 hands. She holds a sword in her one left-hand and a lotus in another. The other 2 hands respectively show protecting and allowing actions. If you make vow of fasting and worshipping her, she would bless you with the husband you have wished and prayed for. If a lady's marriage is getting delayed due to one or the other reason, she may worship Maa Katyayani to remove obstacles that may be causing delays in her marriage. 
Since Maa Durga was born to Katyayana, she is widely known as Katyayani in her 6th avatar. Sage Katyayana had the privilege to be the first person to worship Katyayani for three days – Shukla Saptami, Ashtami and Navami. Mata Katyayani lead the devas to win over the demons and hence she is referred to as the 'Warrior' Goddess' and is said to be one of the violent forms of Maa Durga. Chaitra Navratri 2018: What Food to Eat and What to Avoid While Fasting
On the 6th day of Navratri, Yogis and Sadhaks devote their time completely to meditate and pray to Mata Katyayani. They believe that they can feel the presence of Agya Chakra in their mind and soul after doing so. Agya Chakra is nothing but the enlightenment that comes from within to sacrifice oneself completely to the Goddess. In fact, any person who prays with a pure heart and mind can attain Agya Chakra. Sins accumulated over several lives will be forgiven and one develops the strength to fight illness, sorrow, and fear. One must wear red clothes when praying to Mata Katyayani and honey is offered as 'prasad'.
The following mantra must also be recited on this day:
"Chandrahasojvalakara Shardulvarvahna
Katyayani Shubham Dadhyadevi Danavaghatini"
Subscribe Now
Enroll for our free updates