Gowri Habba 2017 Date: Significance and Puja Muhurat of Swarna Gowri Vratha Festival Celebrated Ahead of Ganesh Chaturthi
Gowri Habba is also called as Hartalika Teej or Gowri Ganesha festival.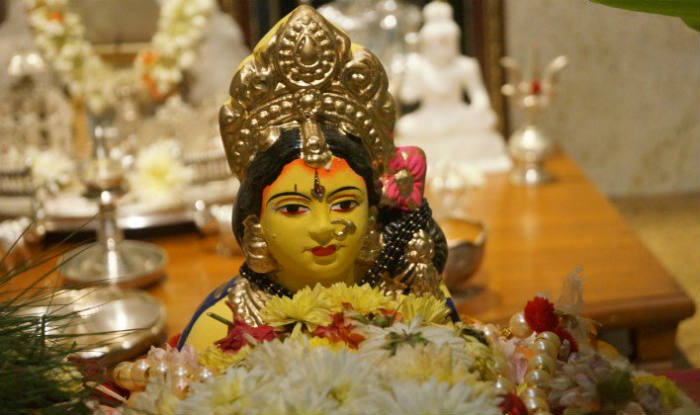 Gowri Habba is a significant Hindu festival celebrated a day before Ganesh Chaturthi. This year, it would fall on August 24, 2017 (Gowri Habba date in India) with Vinayaka Chaturthi starting on 25th August. Mata Gowri also known as Goddess Parvati is worshipped as the mother of Lord Ganesha in this festival significant in parts of Karnataka, Andhra Pradesh and Tamil Nadu. It is also called as Hartalika Teej in states such as Bihar, Rajasthan, Maharashtra, Uttar Pradesh, Madhya Pradesh and Jharkhand. Gauri Habba is also referred to as the Gauri Ganesha. The married women carry out Swarna Gowri vratha rituals on shubh muhurat timings to appease Gowri who is the very incarnation of Aadhi Shakthi Mahamaya. Hartalika Teej 2017 Date: Teej Vrat Shubh Muhurat Timings and Significance of Lord Shiva-Goddess Parvati Puja.
Significance of Gowri Habba
Goddess Gowri who is the consort of Lord Shiva and mother of Lord Ganesha and Lord Kartikeya is worshipped as the most powerful Goddess. She is Shakti, the concept or personification of divine feminine creative power. During Gowri Habba, it is believed that on Thadige, or the third day of the month of Bhadra (August-September in the Gregorian calendar), Mata Gowri visited her parents' home like any married woman. A day later, her son Lord Ganesha comes to take her back to Mount Kailasha, the abode where Lord Shiva resides with his family. Ganesh Chaturthi 2017: Date, Muhurat, Puja Vidhi, Fasting & Auspicious Timings of Ganpati Festival.
Gowri Habba Puja Muhurat
Women observe Swarna Gowri Vratha to seek blessings from Goddess Gowri for marital bliss. The rituals of Vratha and complete celebrations are carried out with joy and fervour. This year, the shubh muhurat timings on August 24, 2017, is Pratahkal Gowri Puja Muhurat = 05:46 to 08:30 with a duration of 2 Hours 43 minutes. Hartalika Teej 2017 Wishes: Best Happy Teej Messages, Quotes, WhatsApp GIF & Greetings to Celebrate Indian Festival.
Swarna Gowri Vratha Rituals
On this day, Hindu women and young girls are in new/grand traditional attire. They make either jalagauri or arishinadagauri (a symbolic idol of Gowri made of turmeric) and bestow her for Puja. These days ready-made beautifully painted and decorated clay idols of Goddess Gowri can be bought along with Ganesha statues, at the local market. The goddess' idol is mounted on a plate, with cereal (rice or wheat) in it. According to the Vrata, Asthis pooja is to be performed with 'suchi' (cleanliness) and 'shraddhe' (dedication).
A mantapa, generally decorated with banana stem and mango leaves, is built around the idol. The Gauri is decorated with decorations made of cotton, vastra (silk cloth/saree), flower garlands, and ladies get their 'gauridaara' (a sacred thread with 16 knots ) tied to their right wrists, as blessings of Gauri (Gowri Mata) and as part of the vratha. Hartalika Teej Puja Vidhi and Vrat Katha in Hindi: Fasting Rules and Mantras to Celebrate Reunion of Lord Shiva and Goddess Parvati.
At least 5 baginas are prepared as part of the vratha. Each baagina usually contains a packet of arshina (turmeric), kumkuma(vermilion) , black bangles, black beads (used in the mangalsutra), a comb, a small mirror, baLe bicchoLe, coconut, blouse piece, dhaanya (cereal), rice, tur dal, green dal, wheat or rava and jaggery cut in a cube form. The bagina is offered in a traditional mora (winnow painted with turmeric). One such bagina is offered to Goddess Gowri and set aside. The remaining Gowri baaginas are given to married women.
Gowri Habba or Gauri festival is observed by all the married women to seek blessings from the supreme Goddess. It is believed that Goddess Gauri blesses women and their husbands with a long and prosperous life. She also blesses women with fertility and blissful married life. (Edited By: Rashmi Mishra).