Happy Propose Day 2018: Best Wishes, SMS, WhatsApp Forwards, Facebook Status, GIF to Send to Your Valentine
Go ahead and propose your loved one with these special wishes!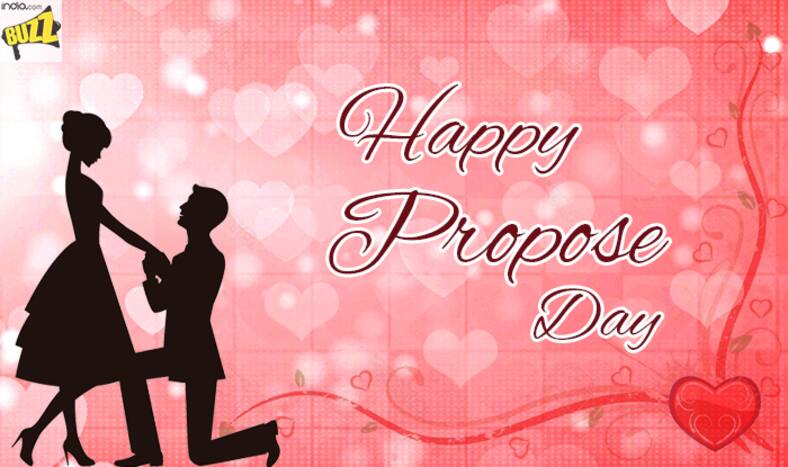 Every year, February 14 is celebrated as Valentine's Day. It is the day of love and for love. The day is also known as Saint Valentine's Day or the Feast of Saint Valentine and is a traditional holiday honouring St Valentine or Valentinus, a Roman priest. The day is celebrated as a tribute to the saint who was martyred in AD 269 and buried on the Via Flaminia. On this day, lovers take the opportunity to express their emotions to each other, plan outings and exchange gifts. And when there is so much love in the air, then why restrict it to just one day! Precisely why Valentine's Day celebrations begin a week in advance. The celebration of love begins with Rose Day on February 7. This is followed by Propose Day on February 8. Let us know a little more about Propose Day.
As we all know, confessing our love to someone is the most beautiful, but also quite a challenging thing. But on Propose Day, lovers gather the courage to confess their love and ask for a commitment. On this day, a large number of youngsters give roses to propose their girlfriend, boyfriend, relative and friend. While earlier it was assumed that only the guy can propose a girl, things are changing fast. Today, girls too do not shy away from walking up to a guy they like and proposing him. It is a sign of the modern, confident woman. So if you want to propose someone on this day, then this is your best chance! Go ahead and check out the Facebook messages, SMS, WhatsApp messages and statuses that you could send to your loved one to tell them how special they are and what they mean to you.
Here are 9 messages to express your love this season!
On This Special Day I Want To Say: Grow Old Along With Me, The Best Îs Yet To Be. Will You Spend The Rest Of Your Life With Me? Happy Propose Day

I Have A Heart That Is True, But Now It Has Gone From Me To You, So Care For It Just Like I Do, Because I Have No Heart And You Have Two. Happy Propose Day

Love Is Like A Cloud. Love Is Like A Dream. The Love Is One Word And Everything In Between. Love Is A Fairytale Come True. Because I Found Love When I Found You. Happy Propose Day

Meeting You Was Fate. Becoming Your Friend Was A Choice, But Falling In Love With You Was Beyond My Control. Happy Propose Day

Did You Know They Changed The Alphabet? They Put U And I Together. Happy Propose Day

I Have Spent Many Sleepless Nights, In Your Love And I Don't Want, My Son To Do Same 4 Your Daughter, So Let's Make Them Brother And Sister. Happy Propose Day

I Can't Imagine A Life Without You In It, I Want To Grow Old With You, Let's Spend The Rest Of Our Lives Together. Happy Propose Day

Love Is Passionate, Love Is Blind, There Is No Better Promise I Can Make, But That I Will Be The Best You Can Find. Happy Propose Day

Without You, I Am Nothing. With You, I Am Something. Together We Are Everything. Happy Propose Day
Propose Day is followed by Chocolate Day, Teddy Day, Promise Day, Hug Day, Kiss Day and finally Valentine's Day! Valentine's Day originated in Europe and since the 19th century, it has been celebrated in North America. In Europe, Valentine's Day originated as a Western Christian liturgical feast day honouring St Valentinus. Although Valentine's Day was originally a western concept, it is celebrated across the country with great enthusiasm. Travel companies come out with special packages during this week, while retail giants like Nestle launch special editions of KitKat. Various other brands too launch schemes and products aimed at Valentine's Day celebrations. We wish our readers a very Happy Propose Day and a Happy Valentine's Day!