5 Must-Try Diwali Dishes
Diwali is such a special time—fireworks, homemade food, rangoli, and family are all essentials to this holiday.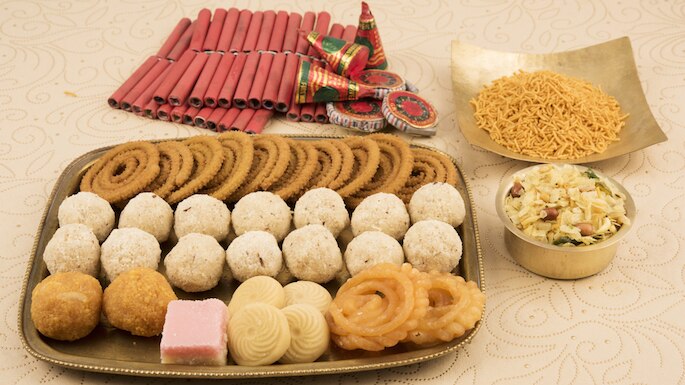 Diwali is a special time—fireworks, homemade food, rangoli, and family are all the main essentials of this holiday. (If you want to know more about the holiday be sure to check out "Diwali in America.")
For now, we have you covered with five dishes also known as pharal to complete your celebrations!
1. Chakli
How does one even begin to describe this dish? Chakli is a deep fried orange crunchy snack, its spices leave you wanting a little water and a lot more chakli. It is typically made of wheat and gram flour, and also has carom, cumin, sesame seeds, turmeric, red chili powder, salt, and asafetida. You'll definitely need a chakli maker for this recipe—or if you're too tired, you can grab a prepackaged bag at an Indian grocery store!
I spent my childhood cooking chakli from scratch with my parents and brothers. We played old Hindi and Marathi songs and squeezed out the dough in circles, then we waited in anticipation as each one deep-fried. This dish brings fond memories back, so be sure to make it a part of your traditions!
For a full recipe, click here.
2. Kadboli
Do you like chickpeas? Then this is your dish. Kadboli is another deep fried snack made for Diwali! It is typically made with cumin, chili powder, chickpea flour, urad, rice flour, moong, salt, and other spices.
Check out the recipe here.
3. Sev
This snack came be made in a million different ways, so it really depends on how you prefer to eat it. Sev is typically served in chaat recipes, bhel, and even pani puri. Though it looks like small pasta noodles, sev is made with chickpea flour. This is probably the easiest food to make—all you need is chickpea flour, black pepper, turmeric, salt, oil, and water.
If you want to make it, you can try the recipe here and then have it along with your chai!
4. Karanji
This is our first sweet dish on the list! At first glance, karanji can look like an apple turnover—there's an outer layer and filling as well. For the filling, you can use jaggery, coconut flakes, semolina, sesame seeds, cardamom, nutmeg, and any other spices you might like. For the outer shell you will need semolina, flour, sugar, ghee, milk, salt, and water.
For the complete recipe, click here.
5. Besan Ladoo
Here is the second sweet and last dish to try on this list! For this sweet, you will need gram flour, semolina, ghee, sugar, almonds, and cardamom. Ladoos typically appear in a ball-like form and they are certainly a mouthful! For anyone out there who has a sweet tooth, just one is enough—and the recipe is all yours!
Now you have the five-dish guide to make your Diwali goodies a success! Get out there, try the recipes and let us know which one is your favorite!