Neema's Homemade Chicken Curry Recipe is Must-Try for Every South Asian
[Photo Source: Pinterest] It does not matter where in the world you are, at some point someone is going to tell you they love Indian food—and when you ask what they like, you are going to hear, "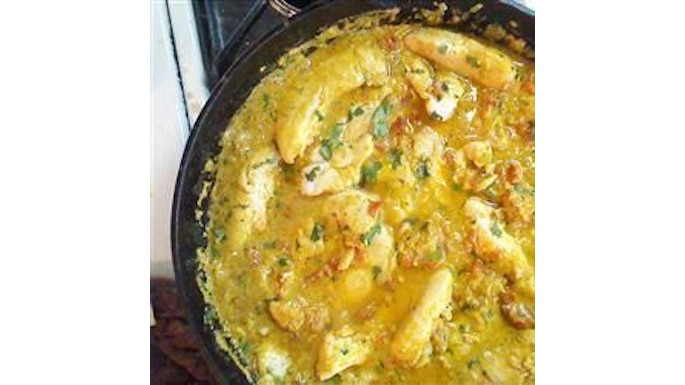 [Photo Source: Pinterest]
It does not matter where in the world you are, at some point someone is going to tell you they love Indian food—and when you ask what they like, you are going to hear, "butter chicken" or "chicken tikka masala." Admittedly, I love butter chicken too, but there is one recipe I guarantee you have not tried: Neema's chicken curry.
The word "curry" is something that has become synonymous with Indian food, but many people do not actually know what it means. Curry is a blend of spices that comes together to form different sauces. It can come in different colors, density, viscosity, spicy levels, and can fill your home with a rich aromatic scent.
So, when people say they love curry, it actually is not one tangible sauce or flavor—they are saying they love basic spices that are an integral part of Indian cooking. (To find out more about the fundamental ingredients of Indian cooking, stay tuned for my next article!)
You are about to cook something so tasty you're going to want to share it with your friends, so go ahead! You and your friends are in for a treat… my mom would be proud (it is her secret recipe after all)!
Neema's Homemade Chicken Curry Recipe
Serving Size: 10
Ingredients
1 Organic Family Pack Chicken Thighs (should contain 4 pieces)
 2.5 Inches of Ginger
10-15 Cloves of Garlic
1 Long Stem of Coriander
1 Red Pepper
4-5 Green Jalapeno Peppers
2 Medium Yellow Onions
2 Medium Tomatoes
 ½- ¾ cups Non Fat Plain Yogurt
3 Tablespoons Coconut Oil
2 Bay Leaves (Dry/ Fresh)
10-12 Cloves
1 Whole Stick of Cinnamon
6-7 Pods of Large Black Cardamom Seeds
4 White Potatoes
10 Eggs
1 Whole lemon
Directions
1. Remove fat from the chicken thighs. Usually, a pair of kitchen scissors makes fat removal easy. Dispose of fat in the trash, set aside the thighs.
2. Hard boil the eggs for approximately 8-10 minutes. Peel and set aside.
3. Peel the ginger and garlic cloves.
4. Grind the ginger, garlic, coriander, red pepper, jalapenos, onions, tomatoes, and yogurt in a blender or food processor. Add minimal amounts of water if paste is too thick. Set aside this paste.
5. Heat the coconut oil in a large wok. Add bay leaves, cloves, the cinnamon stick (break in half), and cardamom seeds. Let oil soak all ingredients. Wait until the bay leaves turn brown.
6. Pour paste from step four into the wok.
7. Stir and cook the ingredients until you can run a spoon through the middle of the ingredients that leaves an open trail, and the sauce stay separated.
8. Take lemon and slice into thin circles.
9. Add the chicken thighs, eggs, lemon circles, and potatoes.
10. Cook on a medium flame until the chicken and potatoes are cooked through.
Some pointers to follow:
– You may need to add water to the curry as it cooks.
– Do not eat the cloves, cardamom seeds, bay leaves, or cinnamon. These ingredients are for flavor.
– This dish is typically served with rice or roti. (Roti is a type of Indian bread that can either be homemade or bought at an Indian grocery store.)
– This dish serves five to 10. If you're cooking for one, feel free to freeze leftovers!