Hijab Row Intensifies, Karnataka Schools And Colleges Shut For Three Days | Key Points
The hijab row, which began in a Udupi college, has spread to several educational institutions across Karnataka, with several students turning up for classes wearing saffron shawls and hijab as a form of protest.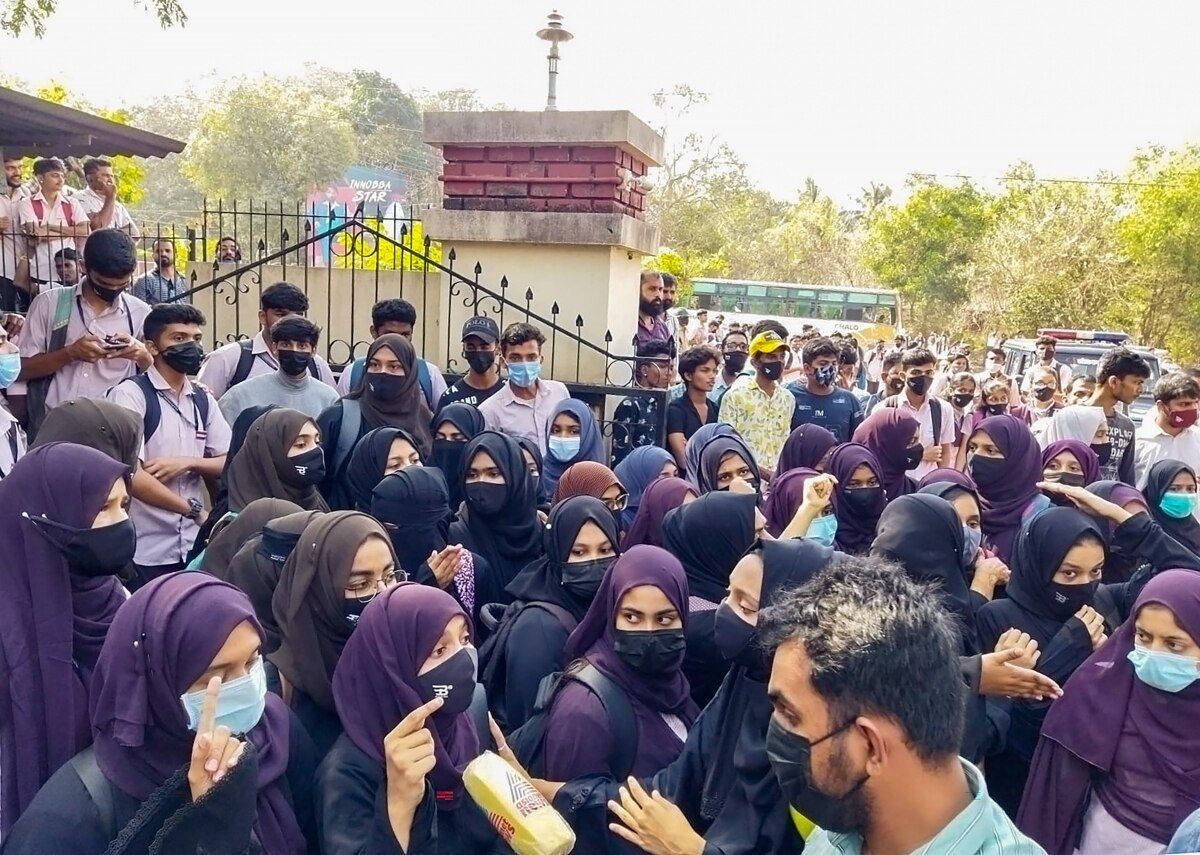 Bengaluru: With the row over dresscode intensifies in Karnataka and turning into a law and order issue, the Basavaraj Bommai Government on Tuesday ordered closure of high schools (Class IX and X) and colleges in the State for three days. The chief minister also urged students, teachers and management of schools and colleges as well as people of Karnataka to maintain peace and harmony. Earlier, today the Hijab row in the state turned violent as incidents of stone pelting and lathi-charge were reported in Pre-University Colleges.
The hijab row began last month when six Muslim girl students of the state-run PU College in Karnataka's Udupi alleged on January 1, 2022, that they were denied entry into the classroom for wearing hijab. The protest subsequently spread to other colleges in Udupi and other districts as some students continued to wear hijabs and were countered by others wearing saffron shawls.
Karnataka Hijab Row: Key Points
Whole situation was under control till February 1, only when some political parties instigated it there was reaction from the other section of society also. We appeal to students not to take law into their hands: State Primary and Secondary Education Minister BC Nagesh
All students must follow the dress code prescribed by the schools/administration. Law and order must be maintained in the State. We need to see who are these people instigating the students: Union minister Pralhad Joshi on Karnataka hijab row
Schools and Colleges in Karnataka closed for three days: I appeal to all the students, teachers and management of schools and colleges as well as people of Karnataka to maintain peace and harmony. I have ordered closure of all high schools and colleges for next three days. All concerned are requested to cooperate: Basavaraj Bommai

CM Bommai has appealed students to maintain peace. "I appeal students to not give inflammatory statements. Wait for the court order," he said.

CM Bommai Directs Authorities to Maintain Law and Order: Karnataka Chief Minister Basavaraj Bommai has urged to maintain peace and harmony in the state. He also asked concerned authorities to maintain law and order.
Section 144 in Shivamogga After Violence Erupts Over Hijab Row
Section 144 has been imposed in Shivamogga after violence erupted in the district over the Hijab row. Violence is also being witnessed in Shikaripura. According to ground reports, pro-Hijab groups pelted stones at private buses near the Junior college. Police have resorted to lathicharge.
It is an essential religious practice as prescribed by holy Quran. All the decisions cited by them – Madras, Bombay and Kerala – don't deal with this issue at all: Kamat Senior advocate Devdatt Kamath appearing on behalf of the petitioners in one of the petitions argued that the entire decision taken by state government through February 5,2022 notification, hinges on three decisions of three high courts which doesn't refer to Hijab issue. According to him, the circular depicts non application of mind on the part of state government. He further claimed that wearing of Hijab is an essential religious practice as prescribed by holy Quran.
Karnataka High Court says – we will go by reason, by law, not by passion or emotions. We will go by what Constitution says. Constitution is the Bhagavad Gita for me.
State education minister CT Ravi: People crying for 'fools' whose only aim is to wear hijab to college
Hijab Row: Stone pelting outside Govt college in Shivamogga: Stone pelting is being witnessed outside the Govt degree college in Shivamogga, where protests had broken out on the Hijab issue before. Police used mild force to disperse the crowd.
Karnataka High Court passes over the hijab row in the state
All the concerned people (in the Udupi hijab row) should keep the peace and let children study. The matter will be presented in High Court today, let's wait for it, says Karantaka Chief Minister Basavaraj Bommai.
Protest erupts at Mahatma Gandhi Memorial College in Udupi: Ahead of the Karnataka Hijab controversy hearing at the High Court, protests have escalated in the state with a section of students wearing saffron shawls and traditional attires and Muslim girls wearing Hijabs.
#WATCH | Protests erupt at Mahatma Gandhi Memorial College in Udupi as students wearing hijab & another group of students wearing saffron stoles-headgears raise slogans on college campus.

Karnataka HC to hear a plea today against hijab ban in several junior colleges of state. pic.twitter.com/f65loUWFLP

— ANI (@ANI) February 8, 2022
The Plea in the Karnataka High Court:
Muslim girls have been wearing headscarves in the college without any hindrance since its inception.
There is a specific rule in the college rule book which permits students to wear a headscarf.
There is no rule under the University Grants Commission (UGC) Act which prescribes a uniform for college students or puts any restriction on clothes, apart from not permitting indecent attire.
Pushing and throwing out girl students without any reason denies them their fundamental right to education, and is inhuman and immoral.
The headscarf is an essential practice of the local and religious culture, and is hence protected under Article 25 (freedom of religion) of the Constitution of India.
The college is acting under the instructions of the MLA Halady Srinivas Shetty, who is interfering in the management of the college for his own political interests.
The petition has also asked the Court to allow Muslim girl students to attend college without such conditions and restrictions. It also sought interim relief from the Court, as the petitioners and other students have not been able to attend regular physical classes since February 4, which is negatively impacting their education.
There have also been reports of similar instances of students turning up at educational institutions with either hijab or saffron shawl in Ramdurg PU College in Belagavi and a college in Hassan, Chikkamagaluru and Shivamogga, and also a group of girls staging demonstration in Mysuru and Kalaburagi in favour of the hijab.
The hijab ban has been questioned in the High Court by a group of students from Udupi's government junior college. The students have said in a plea that the ban violates the right to freedom of religion enshrined in Article 25 of the Constitution.