24 Desi Baby Names You'll Love
Some of the top baby names of today!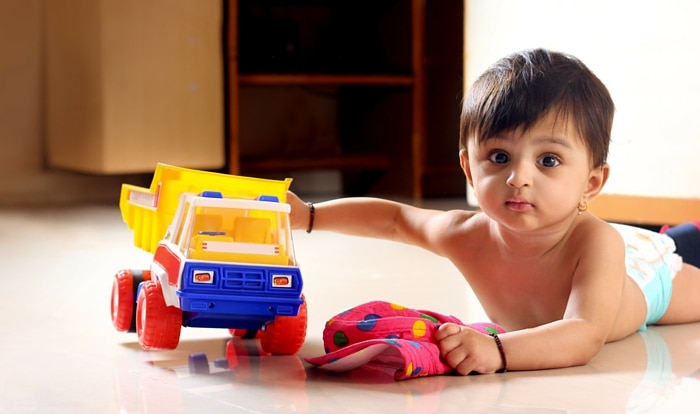 Since we're in the middle of wedding season, we all know baby season is just around the corner. If you're expecting a little bundle of joy soon—or know someone who is—you know how hard it is to pick out a name. This is something the baby will live with forever and you want to get it just right, picking out a name can be a big challenge. To help you out, we've compiled a list some of the most popular desi names of today.
Check out this list of names for both boys and girls along with their meanings, maybe you'll find your baby's name here!
Girls:
Saanvi
This is another name for the Goddess Laxmi.
Aanya
This name means grace.
Pari
This name is whimsical and means a fairy.
Chhaya
I may be biased on this one, but it means shade, beauty, and is a baby girl who brings comfort to the world. It is an older Marathi name that is growing in popularity.
Jaya
This name means victory—and is well-known thanks to legendary actress, Jaya Bachchan.

Rathi
This name means a Hindu goddess of love—it is a lovely choice for your baby girl!
Akshita
This name means permanent, a strong choice for a baby girl.
Damini
This is a Sanskrit name which means lightning. It is a powerful name for your baby.
Gayatri
This name refers to the mother of the Vedas or Goddess. This popular name is a favorite in India and on Indian soaps!
Nalini
This is an older name that's made its way back into popular culture. It means the night, a classy older name for a daughter!
Manvi
This name means someone who possesses all the best qualities, something sweet for your baby girl.
Vaishali
This is another older name that's making its way back into popular baby names and it means Goddess.
Boys:
Aarav
This is a Hindi name that means peaceful.
Mohammed
This name means praiseworthy and it is one of the most popular names in the world. It's often used in Arabic, Urdu, Pashto, and Tajik.
Vihaan
This name means dawn, morning, or the first ray of sun and is a Sanskrit name.
Sai
This is both an Indian and Pakistani name. In Marathi, it means Master or Lord. This name can be used for both genders and is gaining popularity.
Arjun
This classic name is ever popular. It is a Hindi name that means bright, shining or white. It is also the name of one of the Pandava brothers from the Mahabharat.
Dhruv
This name means the polar star, constant, faithful, and firm. It is a Hindu name that's gaining popularity.
Charan
This Marathi name means feet and is referenced for a humble person.
Chandan
This is a Marathi name meaning sandalwood.
Veer
This is a Punjabi name that means brave. A prominent independence activist by the name of Vinayak Savarkar is often referenced by Veer, he was known for his bravery and even has an airport named after him.
Anand
This is a Marathi name that means joy, happiness, and one who is blissful.
Anant
This is another Marathi name that means endless, infinite, and is another name for Shiva and Ganesh.
Kedar
A Marathi name which means raga and powerful.
Got a favorite we didn't include? Comment and let us know! Also, if you pick one of these lovely names from our list, be sure to let us know!