Benefits of squats: 7 reasons why you should start doing squats everyday
Squats are a fantastic exercise!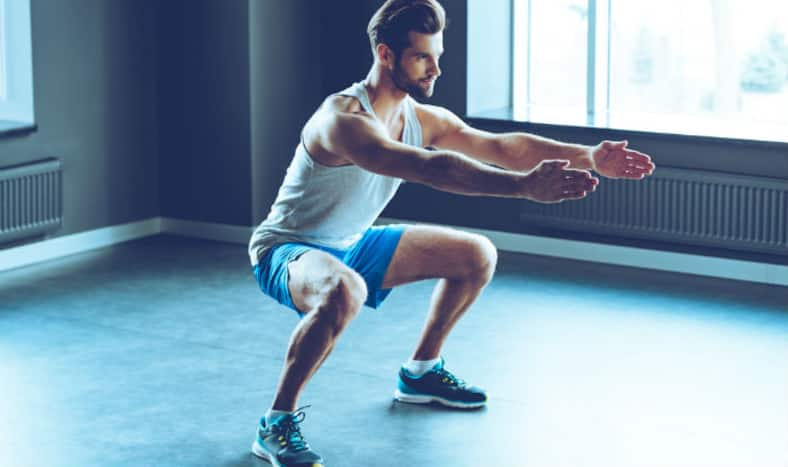 Everyone should do squats as it is among the best compound exercises. If you go to a gym, your trainer will definitely make you do some squats and do it right. You can increase the intensity of your workout session by adding squatting exercises. Although it may seem difficult initially and require mastering the technique, it is easy to learn and can be done anywhere and without using any equipment. Squats are not just for specific muscles but help in the growth of overall muscles. It is often considered as a leg exercise but it is beneficial for your entire body. (ALSO READ Knee joint pain exercise: 5 simple exercises to get rid of knee joint pain).
How to do a basic squat?
Stand straight with your feet hip-length apart. Keep your spine neutral, back straight and shoulders up. Now, breath in and squat down (push back your butt and bend your knees to imitate the sitting position). Your knees should be in line with your feet and your butt should go down till it is lower than your knee. Then come back to the original position.
Squatting exercise will also help you to lose weight. So, if you have been avoiding it, here's why you should start doing them right away.
1. Builds muscles
Squatting exercise helps muscle growth throughout the body and not just the legs. This intense exercise promotes production of hormones essential for muscle growth and creates an anabolic environment. Squats improve lower and upper body strength. (ALSO READ These 5 cardio exercises will burn more fat than running wow!).
2. Shapes your butt and abs
Want a bigger butt, the do squats. It engages many muscles and is a great multi-purpose exercise. Squats will make your butt firmer and bigger without putting pressure on the back. It will also tighten and tone your abs, and legs. Doing squats will help you to build muscles and regulate glucose.
3. Burns fat
Squats will help you to burn fat faster. Your body burn 50 to 670 calories more for every pound of muscle you gain. So, when you gain muscles doing squats, you burn more fat. Squatting exercise is one of the best ways to burn more calories. (ALSO READ Get 6-pack abs at home with these 5 exercises).
4. Prevents injuries
Squats strengthen ligaments and stabilizer muscles, which are responsible for most of the athletic injuries. Doing squats will improve balance and flexibility and prevent possible injuries.
5 Improves balance and mobility
As you get older, having strong legs becomes important for balance and to stay mobile. Squats will help in improving the strength of your legs. Squats will also work your stabilizing muscles and core, improving the link between your brain and the muscles. This will help in preventing falls and maintaining balance.(ALSO READ Here are the 6 most effective facial exercises to get rid of your double chin!).
6. Tones leg muscles
Squats use every leg muscle and will primarily tone your lower body. They will help in improving the strength of your calves, hamstrings and quadriceps along with other muscles to improve your balance. It is also the best exercise to tone your legs.(ALSO SEE Do you want stronger bones? Hit the gym, says a new research).
7. Improves digestion
Squatting improves the flow of body fluids and aids in the removal of waste from the body. It improves the bowel movement and help in keeping it regular.
Found this story interesting? Like our Facebook page to read more such articles. Also, share your comments below. We would love to hear from you!