Shilpa Shetty's 'Do Not Bend Backwards For Anybody But Yourself' Mantra Will Give You Confidence
Shilpa performed a simple looking yoga back-bend while doling out advice on being confident.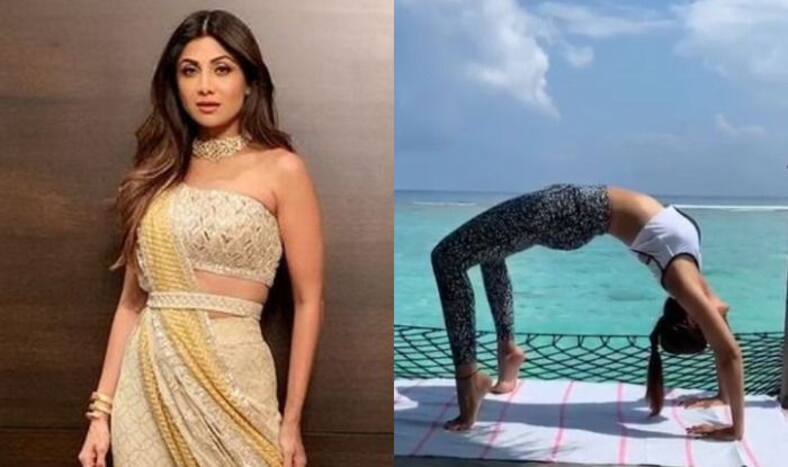 Actress Shilpa Shetty is a happy-go-lucky person and rightfully so, as she does not let anything disrupt her calm. We have seen much about her on social media, from her fitness regime to her cooking shows and binge eating, most of which were shared by her. In the newest post that she has put out, she not only teaches us a few yoga tricks, but also doles out some advice that will definitely boost our confidence.
In the video, which she shared on her Instagram page, Shilpa can be seen doing a yoga back-bend, and while she makes it look effortless she also had this to say, "Today's mantra 'Life will be simpler if you don't bend backwards for anyone but yourself'."
She also added, "We bend backwards when we are insecure, seeking attention/approval, lacking confidence or in fear…This asana will definitely help you change those things. They say you are as young as your spine..The Chakrasana is an intense backward bend creating necessary space in your spine to keep you young and healthy. 'The Wheel'(Chakra) pose sets momentum for the circulatory, nervous and endocrine system, just like the wheel sets momentum for a car helping it run smoothly.
"This asana opens up the Manipuraka chakra (solar plexus) building confidence, clarity of thought, self assurance,wisdom, knowledge and bliss..This must be done carefully (but not if one suffers with back injuries) and under supervision and consistent practice will yield astounding results both not just physically but mentally too. Bend backwards for yourself and see the world bend forward ..with RESPECT."
Want to learn how to do it? Check out the video below:
Shilpa has been in the film industry for 25 years and she has appeared in Telugu, Tamil and Kannada language movies aside from Hindi ones. Apart from her acting, she has also contributed as an author to two books that are nutrition guides. An avid yoga practitioner, she launched her fitness Yoga DVD in 2015.