Different types of kisses and their meaning: 15 different types of kisses and what they mean!
Did you know every kiss has a meaning to it?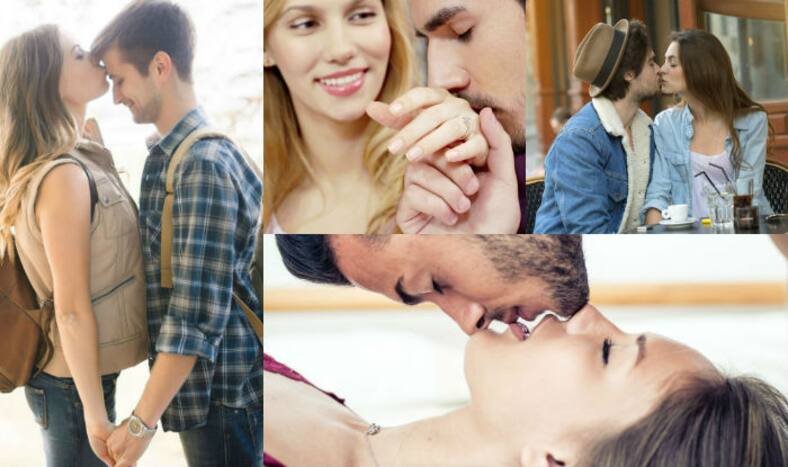 Kissing is said to be a universally loved act. And it has also been proved scientifically that kissing has many health benefits. It burns calories and it also helps you in getting  a glowing skin. Now we do kiss pretty often in different forms. Sometimes we kiss our parents, our siblings, friends or even our special someone.  It is a very beautiful form of expressing love.  At times when we can't find words to express, gestures like kissing always comes to the rescue. But in this article let's just to the romantic kisses that is shared between two people in love. For those who don't really know, every kiss has a different meaning to it. It is obvious that while kissing, you will not think of what it meant. But you could use this knowledge the next time your guy kisses you. You will k now what he expects or what his thoughts are. So here we have listed down the 15 different types of kisses and their meaning. You will be surprised know!
1. The quick kiss
Standing true to its name, the quick kiss is not a romantic, passionate kiss. It is usually shared between people who have been in a relationship for a long time. The guy just needs to give a peck on the girl's lips. The quick kiss can also be called the Tap kiss and it shouldn't last for more than 4 seconds. The meaning of a quick is that the person likes you, but at the same time, wants to take things slowly.
2. French Kiss
The French kiss is the most passionate of all. This kiss doesn't starts and end with a peck. It involves a lot of tongue work and to do it perfectly takes time and practice.  It is also said that the French kiss can also help you burn calories.  Long passionate kisses like the French Kiss will help the couple to get closer than ever.
3. The Butterfly kiss
The fluttering of butterfly and the batting of eyelids is synonymous. The Butterfly kiss is cute and absolutely adorable. No lips are involved. The woman comes close to the man and presses her eyes on his face. The next step is to bat your eyelashes just like how a butterfly flies. This kiss is more romantic than sexy. You both can also connect both your eyes and blink. The touch of the eyelashes is what makes this gesture adorable.
4. The Nose Kiss
Kissing the nose is another cute way of expressing love. The Nose kiss means that he/she likes you and thinks you are too cute.
5. The Drink Kiss
Do you have a date planned with your special someone? If yes, you must definitely try the Drink kiss. Take a sip of your favorite drink and kiss him to pass on the drink from your mouth to his. This is called the Drink kiss. Unique and exciting right?
6. Forehead Kiss
The forehead kiss comes purely out of respect and care. If your guys places kisses on your forehead, it means he really respects you.  The Forehead kiss is also shared among friends and not just couples. The forehead kiss also plays an important role in increasing the trust and affection.
7. Eskimo Kiss
Rubbing noses is the Eskimo kiss.  It is fun, romantic and absolutely cute.  Couples do the Eskimo kiss when they are sharing a light moment or just to tell how much they love being with each other.
8. Single lip kiss:
Ask couples and they will tell that single lip kiss is one of the best ways of kissing. You get to feel each other and there is no distance at all. A passionate kiss, you can do the single lip kiss by sucking the lower lip and biting it slowly.  This kiss mostly means they want you.
9. Kiss on the neck:
Couple who have been together for years now will know that a kiss on the neck is one of the most passionate kisses.  It usually leads to foreplay and then love making. Kiss on the neck is never done on first dates. This stage comes quite later when the two of you share a comfortable sexual and physical chemistry.
10. Kiss on the cheek:
This is a universal form of kissing. It is shared between couples, friends, and families and so on.  It defines two people's liking and fondness for each other.  This kiss is apt for people on their first dates. It is polite and at the same time tells you like your date.
11. Spiderman Kiss:
The Spiderman kiss got its name from the movie. Since then this has become quite popular. For those who still don't know what the Spiderman kiss is- it is a kiss where the boy's head is upside down and the girl kisses in that position. You will feel your partner's breath and that makes the moment romantic and intense.
12. Stop and Go Kiss:
If you are out for a long drive, this kiss should definitely be tried. On your journey, whenever your vehicle halts at traffic point, just make the most of that moment and seize a passionate, quick kiss,. And this is called the Stop and Go kiss. It is pretty adventurous.
13. Kissing the back:
This kiss means he wants more than just kisses. The back kiss can be done only in a private space. It heats up the moment and things will escalate quickly. Try this kiss only if you are ready to take things forward.
14. The Lizard Kiss:
This kiss shared only between couples who are really close to each and intimate.  Here you don't kiss with your lips, but with your tongue. Both the partners kiss using their tongue and hence it is a very intimate form of kissing.
15. Kissing on the ears:
Most women state that they love it when their partners kiss on the ears. Slowly kissing her tight, then placing kiss on her ears is surely to turn her on.  Ears are most women's sensitive area. And kissing on the ears mean, the love is deep and intense.
So what are you waiting for now? If you have your partner right beside you, kiss him like there is no tomorrow and bring back the spark .