This pizza costs Rs 136000: Here's everything that goes into making it!
All other pizzas can go home- their Queen has arrived! New York's Industry Kitchen is serving what is perhaps the most expensive pizza in the world.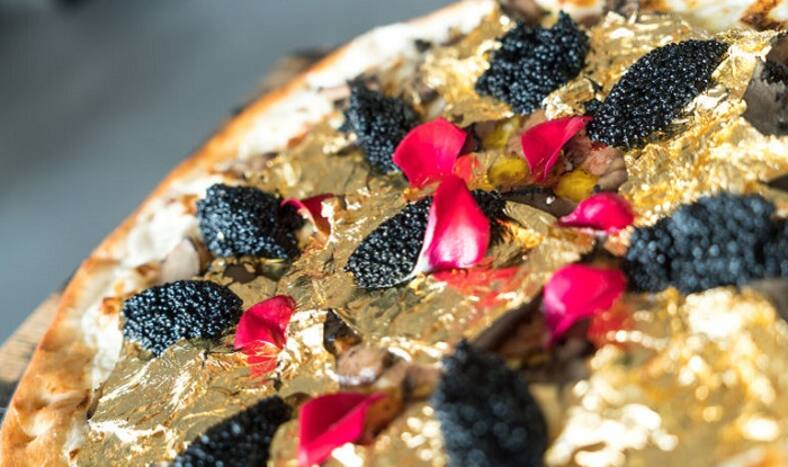 If you were wondering what goes into making one of those Uber expensive meals that the super rich keep bragging about, you can stop wracking your brains because the answer is simpler than you'd imagine. Plating food with gold is an actual gourmet trend, with restaurants serving everything from cakes to popcorn, donuts and ice-creams covered in the shiny stuff. Now pizza has joined this cult of gold-covered food, with a New York eatery serving this most popular of all comfort food with 23 carat gold flakes.
The pizza- more like the Queen of all Pizzas- is available at New York's Industry Kitchen and costs a whopping $2000 (Rs 1,36,000). The decadent dish is topped with some of the most expensive ingredients including  fantail prawns, Ossetra caviar, lobster, foie gras and white truffle oil. If we break that down, assuming that one pizza will have eight pieces, each piece costs $250. Assuming that you will finish one piece in five bites, each mouthful will cost you $50 (Rs 3390)! ALSO READ: Best Pizza Places in Mumbai for all budgets: Top 20 restaurants for pizza lovers
The Industry Kitchen is located at South Street Seaport right by Manhattan's finance district, where we're guessing is a haunt of exorbitantly rich folks, preferring to eat gold as well as wear it. The restaurant's head chef explained in the town and Country magazine, "It is the epitome of decadence. The pizza is extremely rich—if you're in the mood for a lavish meal, this is the pizza for you." He added by saying that the pizza is one of the most expensive meals he's every made (like, duh) and that he made it in the form of a pizza to make it more approachable. Well that is some questionable logic! ALSO READ: Hot Sex Milk is a thing and here's how it's made!
Needless to say, the sales of this particular dish suck, to put it mildly. The ingredients are not easy to get around town. The cheese for the pizza is flown in from the UK, the beluga caviar is brought in from the Caspian Sea, gold from Equador, and the foie gras and truffles are from France. If some one wants to try this pizza out, they will have to place an order 48 hours in advance. So if you have an unnecessary amount of moolah, you're looking to burn, head to Industry Kitchen in New York and you can do so, in no time.