Harvard Basketball Player Shilpa Tummala on Perseverance, Culture, and Giving Back to the Community
Meet Shilpa Tummala, a talented Indian-American athlete on Harvard's Women's basketball team.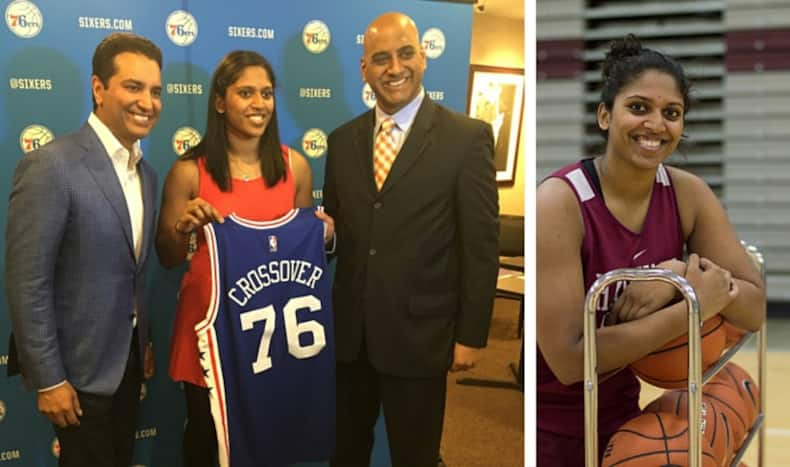 [Left: ESPN Anchor Kevin Neghandi, Crossover Founder Shaun Jayachandran, and Shilpa Tummala being honored at the 2nd Annual Indian-American Night with the Philadelphia 76ers. (Photo Credit: Shilpa Tummala.) | Right: (Photo Credit: Harvard Crimson)]
Shilpa Tummala was as carefree and innocent as any other seven-year-old. But her brother's basketball games caught her attention—and since then, life was never the same.
With fascination, Tummala watched her brother enjoy himself on a basketball court amidst friends and team practices. Soon, she too was practicing—and before she knew it, she became part of a club basketball team at the age of nine.
Growing up in Arizona, this five-foot-eleven player always looked up to her brother, who became her biggest role model. "He taught me a lot about the sport and created a competitive fire in me, both on and off the court" said Tummala. "He pushed me to be great and always believed in me."
Today, Tummala is part of the Harvard's Women's basketball team.
"It has been such an honor to be a part of HWBB (Harvard Women's Basketball)" Tummala said. "The program has taught me so much about myself, providing me with the tools to go out in the real world and be successful. More importantly, I have made life-long friends in my teammates and coaching staff, and have cherished the opportunity to play here every single day. I will forever be grateful."
However, the journey has not been easy. Though Tummala considers herself her biggest critic, both on and off the court, she reveals that the greatest hurdle was acceptance from her South Asian community. Specifically, it was difficult for them to accept her decision to play basketball competitively.
"In our community, it is an anomaly to competitively participate in sports for so long," Tummala explained. "They disagreed with my parents' decisions to allow me to pursue this passion. However, I have been blessed with loving and supportive parents who have always wanted me to work hard and be happy. Therefore, at the end of the day, the only opinion that mattered to me were those of my parents and close family."
Apart from the support, yet another hurdle was her injury—which is a curse for any athelete. During both her freshman and sophomore years at Harvard, severe shoulder injuries ended her season early. Though she couldn't even lift a basketball by that point, the sharpshooter refused to quit. The hurdles couldn't keep her away; what followed was months of dedicated training, and Tummala bounced back. She shared that although those days were very tough for her, she is glad that she kept working on her passion.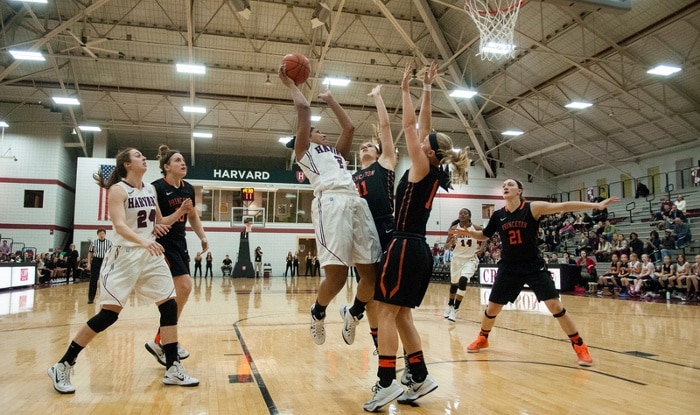 [Shilpa Tummala going up against two Princeton defenders at their home game at Lavieties Pavilion | Photo Credit: Harvard Crimson]
"To be honest, it was tough having to bounce back consecutive years with such big surgeries," Tummala revealed. "However, my passion for basketball—as well as the tremendous support system I had on the court, throughout my rehab process, and off the court—gave me the strength to keep pushing forward. I am thankful that I did continue to pursue my passion because I learned that life is a beautiful struggle and without that struggle, we may never really find ourselves."
It is this very passion for the game that has inspired Tummala to give back to the community. She is involved with Crossover Basketball and Scholars Academy, a nonprofit organization which helps to create educational opportunities and community change through basketball.
"Crossover was an amazing opportunity for me to give back to the Indian community," a beaming Tummala shared. "I felt honored to be asked to join such an exceptional group of volunteers to travel to Chennai to use basketball as a means to instill core values, such as leadership and character. It was a special experience and the lessons I learned will stay close to my heart."
Next year, after she graduates, Tummala is planning to work at Massachusetts General Hospital as a research technician in the neuro-oncology department. Though she currently does not intend on pursuing basketball professionally, she wants to stay in the basketball world and possibly help out with HWBB as a manager or playing scout.