Healthy Snacking: Tasty Raw Mango Recipes You Must Try This Summer
If you love green mangoes or raw mangoes or kairis, you have got to try these healthy snack recipes.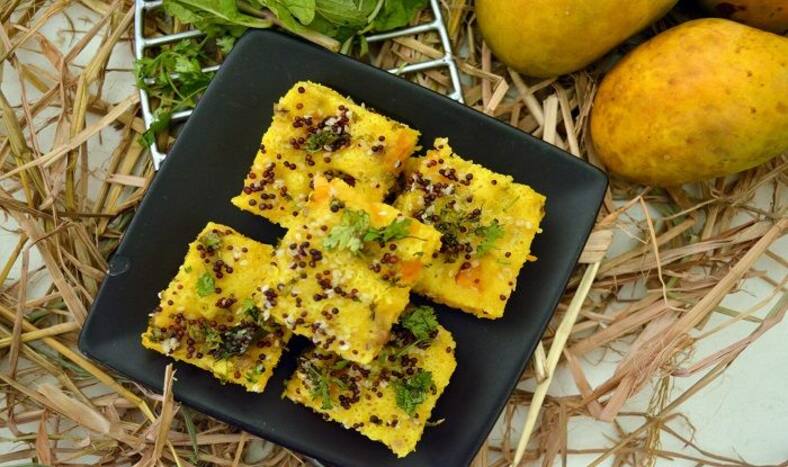 Green mangoes are in season. Did you know that green mangoes or raw mangoes can help boost your immunity and digestion and keep your blood pure? Make use of them by making these delectable snack recipes by Maharaj Jodharam Choudhary, Corporate Chef, Khandani Rajdhani, to have them with your evening chai.
Kairi Makai Dhokla
Ingredients
• ½ cup Makai flour
• ¾ cup Rava / semolina
• 2 tbsps Besan
• 1 cup Raw mango puree
• Buttermilk – 1 cup + 1 cup to take mango puree
• 1 tbsp ginger garlic green chilli paste
• Salt – to taste
• 1 ½ tsp fruit salt
INGREDIENTS FOR SEASONING
• 2 tbsp Cooking oil
• 1 tsp Mustard seeds
• ¼ tsp asafetida powder –
For Garnishing
• 2 tbsp freshly grated coconut
• 2 tbsp coriander leaves chopped
• Raw Mangoes Grated
Method
1. Grate raw mangoes and blend it with one cup of buttermilk and keep aside.
2. Take a bowl, add maize flour, ginger garlic green chilli paste, semolina, besan, salt, mango puree and remaining one cup of buttermilk and keep aside for 30 minutes.
3. Grease a pan to steam the batter.
4. If you feel the batter is thick after 30 minutes add some more buttermilk.
5. Add a ½ tsp of fruit salt with one tablespoon of water and mix well it with the above batter.
6. Pour the batter into the greased pan and steam immediately for 15 to 20 minutes.
7. Heat oil in a pan, add mustard seeds, asafetida powder. Pour over the prepared dhokla.
8. Make square pieces and garnish it with seasonings, coriander leaves and grated coconut and grated raw mango
9. Mango maize dhokla is ready to serve.
10. Serve with coriander chutney or sweet chutney.
Khatta Meetha Samosa
Ingredients
For the pastry
2 cups wholewheat flour
¼ cup Ghee
Salt to taste
For the filling
¼ cup sev
1 tsp dry coconut
1 tbsp coriander seeds
1 tbsp fennel seeds
½ tsp cumin seeds
1 tbsp chopped cashew
1 tbsp raisins
½ tsp Haldi
1 tsp red chilli powder
½ tsp garam masala powder
1 cup boiled potatoes
1 tbsp chopped onion
2 tbsp chopped raw mango
1 tsp chopped coriander
½ tsp sugar
Oil
Method
Mix flour, salt, and ghee in a large bowl. Knead the mixture into a soft dough by adding little warm water. Cover the dough with a wet muslin cloth and keep aside for 30- 45 minutes
For the mixture – in a pan, add little oil. Add the cumin seeds. Once the seeds crackle, add the fennel seeds and coriander seeds. Roast for a few minutes. Add the cashew and raisins and cook again for 1-2 minutes. Add the onion, salt and allow It to cook. Add the dry coconut, turmeric powder, red chilli powder, garam masala, grated raw mango, potatoes and cook for 1-2 minutes.
Add the crushed gathiya, chopped coriander, sugar and pinch of salt. Mix the mixture and keep aside
Take the dough and divide into equal portion ball.Roll each ball into thick puri. Divide the puri into two portions with a knife.
Take one portion and fold it over giving it a cone shape. Press the other end on top to stick two ends to each other.
Now take the cone, fill it with the mixture and apply little water and seal the sides. Keep it aside
Take a pan and heat the oil. Fry the samosa. You could also bake it in the oven.
Once it is ready, take it out of the pan and drain it on absorbent paper
Serve hot with Kairi Kanda Chutney.