Home remedies for cough for kids: 10 safe home remedies to ease your child's cough
Try these effective home remedies to treat your child's cough.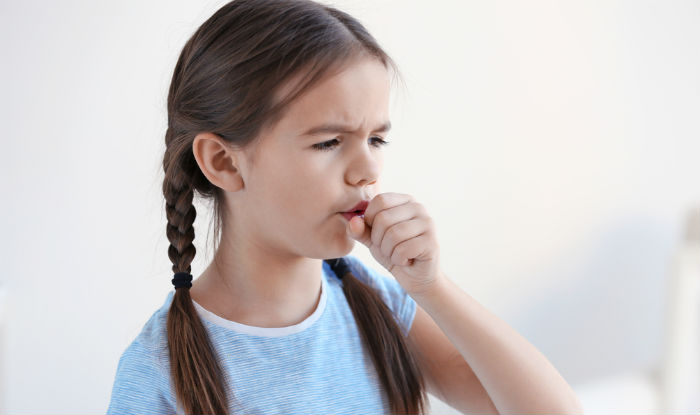 Cold and cough are common in kids, especially if the weather is changing and during the winter season. Cough can be painful and may keep your child up all night. It is caused due to common cold, asthma, respiratory tract infection or sinusitis. Cough may include symptoms like difficulty in breathing, stuffy nose, difficulty in swallowing, fever and wheezing.  It is not advisable to give you child over-the-counter medicines as it is not safe for them and may cause side effects.  You can ease your child's cough with ingredients from your kitchen. There are several home remedies that are safe for your kid and are really effective. So, here are some home remedies for cough for kids. (ALSO READ Home remedies for cold: Natural remedies for treating common cold).
1. Apple cider vinegar and honey
Apple cider vinegar is used in many home remedies and is also effective against cough. Honey eases the cough and soothes the throat.
Method: Take a teaspoon of apple cider vinegar and add in a teaspoon of honey. Mix well and ask your kid to drink it. This will give instant relief from cough.
2. Honey
Honey is an excellent remedy for cough and sore throat. Do not give it to kids younger than one year old though.
Method: Give half a teaspoon of honey to kids younger than two years of age and two teaspoons of honey to kids more than 10 years old. (ALSO READ Headache home remedy: These 6 home remedies for headache actually work).
3. Steam
Steam is the most effective remedy to relieve chest congestion and a stuffy nose.
Method: Take hot water in a bowl and ask your kid to inhale the steam for about 10 minutes. You can also add eucalyptus oil in hot water.
4. Turmeric milk
Turmeric has antiseptic properties and is an effective medicine for infections like cold and cough.
Method: Take a glass of warm milk and add in a teaspoon of turmeric. Stir it and let your kid drink it at night. This drink provides quick relief for sore throat and cough. (ALSO READ Home remedies for gas: 7 natural remedies to get rid of gas and bloating).
5. Eucalyptus oil
Eucalyptus oil is one of the main ingredients in many vapor rubs. It opens up the stuffy nose and eases breathing.
Method: Put a few drops of eucalyptus oil in warm water and ask your kid to inhale the steam. Also, put some eucalyptus oil in the bedding when your child goes to sleep. This will suppress the cough and help your baby sleep peacefully.
6. Garlic
Garlic is a miracle herb and has many health benefits. It is also effective in treating cold and cough. You can use this home remedy for kids above the age of four.
Method: Take two garlic pods, peel them and put it in a cup of hot water. Let the garlic steep in the hot warm for about 10 minutes. Let it cool, strain it and give this drink to your kid every two hours.(ALSO READ Home remedies for acidity: Try these 11 easy ways for quick relief from acidity).
7. Salt water gargle
Gargling with warm water with salt will soothe your kid's sore throat. Teach your child to properly gargle or else he/she may end up drinking the water.
Method: Take a glass of warm water and add a teaspoon of salt in it. Now, gargle using this salty warm water. You can also add in a little amount of turmeric in the water and use it for gargle.
8. Chicken soup
Warm chicken soup relieves chest congestion, reduces cough and soothes sore throat. It contains anti-inflammatory properties and is effective against cold and cough.
Method: Make chicken soup and give it to your child. Kids above the age of 10 months can drink chicken soup. (ALSO READ Natural remedies for cough: Try these 5 home remedies to get relief from cough).
9. Carom seeds
Carom seeds, also known as ajwain in Hindi, help relieve chest congestion.
Method: Take a teaspoon of ajwain seeds and add it to a pan of water. Bring the water to boil. Take a small towel and place it above the boiling water to warm it up (do not dip the towel in the water). Now, place the warm towel on your child's chest. This will help ease the cough. While you do this, your room should be insulated.
10. Holy basil and honey
Holy basil or tulsi is an effective home remedy for the treatment of cough and cold.
Method: Take few tulsi leaves and add it to a cup of water. Boil the water and then let it cool. Now, strain it and add a little honey. Give this drink to your child.
Found this story interesting? Like our Facebook page to read more such articles. Also, share your comments below. We would love to hear from you.
Subscribe Now
Enroll for our free updates