How to get rid of acne? 19 tips to get back your acne-free glowing and healthy skin
Most effective tips to get rid of acne and get back your glowing, healthy skin.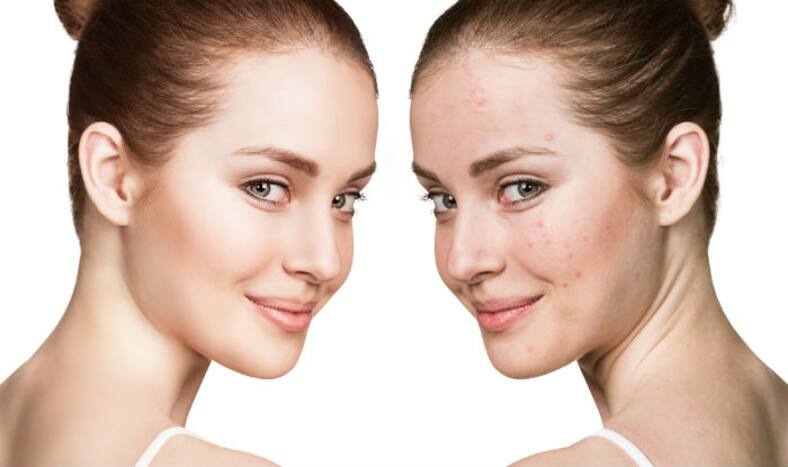 Do you want to get rid of acne? Well most people at some point of time suffer from acne outbreak. The reasons could be many starting from hormonal changes, to lifestyle changes and stress. And if you think that acne outbreaks happens on your skin because your skin is unclean, you have been believing one of the most popular myths. In fact over cleansing of your skin can also irritate your skin and give rise to pimples.  We share with you some of the most effective tips to get rid of acne and get back your glowing, healthy skin.
1.Start eating healthy
If you start having healthy food and stay away from processed and unhealthy ones you will notice that it will definitely make a difference on the texture of your skin. Try to stay away from highly processed that contains a lot of oil. Try to stick to healthy options such as whole grains, fruits, vegetables, and protein. The healthy and nutritious food will help your skin to regenerate faster. And when the unnecessary oil production will stop, your skin will be pimple-free.
2. Exercise regularly
Along with healthy food, you also need to exercise regularly. Regular physical activity will  release endorphin, which lowers stress levels. So this will reduce the oil-production. And the sweating post any kind of physical actity will clean your skin. but make sure that your clean up your body nicely after sweating out. Otherwise acne breakout will not only happen on your face but also on your chest, shoulders, and back.
3. Wash your hair
Not only should you make sure about keeping your body clean, but also your scalp should be kept squeaky clean. Use a mild shampoo that will limit oil production in your scalp, so that your hair does not get greasy. If you do not wash your hair often the oil and dirt from your scalp will seep onto your face resulting in an outbreak of acne.
4. Don't touch your face often
A lot of people tend to touch their faces on a regular basis. But try not to touch your face often. When you pick at your pimples it will only introduce more bacteria to your skin and aggravate the acne. So stop resting your face on your hands and touching your face often. (ALSO READ How to get rid of blackheads: 9 homemade remedies to effectively remove blackheads from your face).
5. Consume liquids
Make sure you drink a lot of water. Drinking water will not only keep your body hydrated but it it also helps with the detoxification process as it gets rid of the toxins thereby purifying your skin. You will also notice when you increase your water intake, your skin will become more radiant. (ALSO READ Health benefits of water: This is why you should drink more water).
6. Get enough sleep
Another thing that is important when it comes to your skin is getting adequate amount of sleep.  You need to est for seven to nine hours. Sleep will relax your body and will make your skin look young by renewing the skin cells. Try to go to bed at a consistent time every night.
7. Avoid stress
Try to avoid stress by relaxing your body and mind. Because high stress levels lead to increased sebum production, which results in acne breakout. So try to relax your body and mind by indulging in something like readign a book or practicing yoga. (ALSO READ How to get rid of whiteheads: 10 ways to effectively remove whiteheads from your T-zone).
8. Keep your fabrics clean
keeping your skin clean is not the only way to get rid of acne, you also have to make sure that your keep all the fabrics clean, that comes in contact with your skin. So you should be cleaning your towels, pillowcases and sheets on regular basis to get rid of the dirt, oil and bacteria build up. (ALSO READ Home remedies for acne: 7 most effective ways to get rid of acne and clear your skin using home remedies).
9. Opt for oil-free makeup
Try to wear less of makeup if you already have acne. But if you have to, try to opt for oil free makeup. Use more gel or water based makeup products so that it does not clog your pores aggravating your acne issue. Also, clean your makeup brushes regularly to prevent bacterial growth. Never go to the bed without removing your makeup. (ALSO READ Makeup removal tips: 3 best ways to remove your makeup before bed).
10. Wash your face twice daily
Use a  pH balanced cleanser to wash your face twice daily before going to bed and after getting up in the morning. The  pH balanced cleanser of 5.5  will reduce your acne significantly. You can also use oil cleansing method to cleanse your face using olive oil, egg oil, grapeseed oil, castor oil. (ALSO READ How to wash your face without soap and face wash: 11 natural face cleansers to make your skin glow naturally).
11. Exfoliate your face
Use a mild exfoliator or a home made one to scrub your face. This will get rid of the dead skin cells that build up and cause acne. For a homemade exfoliator, use a pack of oatmeal and honey and massage it onto your face in circular motion. (ALSO READ Makeup products you should not share: 9 beauty products and tools that you need to stop sharing with your BFF).
12.  Apply essential oil
Apply essential oil such as neem oil and tea tree oil to to active pimples.  The antimicrobial properties of the essential oils will kill acne-causing bacteria. (ALSO READ Beauty benefits of milk: 5 beauty hacks that will change your life).
13. Use a toner after cleansing
Always use a toner on your face after cleansing and exfoliating. The toner works well on your skin to tighten the pore, So the toner will make your skin less likely to be affected by dirt and oil.
14. Apply a moisturizer
Always apply moisturizer post the application of toner. Because if your skin id dry it will produce more oil to compensate for the lost moisture. So make sure your apply a gentle moisturizer post toner application.
15. Get a facial
Consult a professional for a facial. They are available in most spas. The professional will work on your skin to reduce the acne on your face. Or else you can also consult a dermatologist to opt for a medically-oriented procedure to get rid of acne. (ALSO READ How to get fair skin naturally: 13 natural home remedies and face packs to get flawless and fair skin).
16. Facial peel
if you don't want to go for a facial, you can always opt for a facial peel, which is a specialized gel containing acid that dissolves dead skin and bacteria cells. The exfoliation caused by the peel will considerably reduce the appearance of acne blemishes and scars.
17. Opt for microdermabrasion
If you do not want something harsh then you can always opt for microdermabrasion. It is a non-chemical procedure that uses a spray of microcrystals on your skin to remove the outermost layer of dry, dead skin cells. The procedure will leave you with younger and  healthier-looking skin.
18. Laser treatment
The laser treatment procedure uses lasers to fire strong blasts of light on your skin. This kills the overactive oil-producing glands beneath your skin. This process has been shown to cut down acne 50% on average, even though it is said to be a bit painful.
19. Use prescription drugs
Use prescription drugs, but make sure that you use them with caution, because there may be unwanted side-effects.  Also when you start taking specialized form of birth control (for women), it helps to regulate hormones which rise to acne. But any kind of acne-fighting drug should be used with extreme caution.