How to get rid of blackheads: 9 homemade remedies to effectively remove blackheads from your face
Try these home remedies to bid goodbye to blackheads.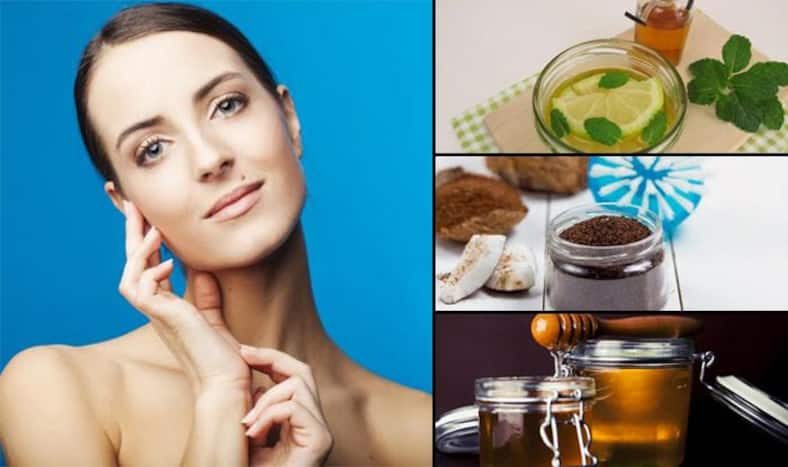 The pesky black spots or blackheads on your skin appear when your pores get clogged with excess sebum. The most annoying thing about the blackhead is that it is very stubborn. When the pore is open the sebum gets oxidized when it comes in contact with oxygen giving it the black appearance. Blackheads usually appear on the T-zone (forehead, nose and chin) of your face. And when the pore is  They appear on your skin when the pores on your skin gets clogged with oil and dead skin cells.
It is nothing but a myth that blackheads are caused by dirt and excessive scrubbing of face will help you to get rid of it. If you scrub your face obsessively, it will only irritate your skin and dry out your face. If you want to get rid of blackheads, read on to know some of the efficient methods through which you can  get rid of blackheads. These simple home remedies will work like magic on your skin and will help you to get rid of the stubborn black  heads. If you are fed up of all the pore clearing strips and chemical scrubs try these home remedies to bid goodbye to blackheads.
1.Use egg white mask
Egg whites are rich in nutrients and at the same time it helps to tighten the pores. So when you use egg white mask, you will not only nourish your skin with nutrients but you will also get rid of blackheads as  it will temporarily tighten the pores on your face. (ALSO READ: How to get rid of whiteheads: 10 ways to effectively remove whiteheads from your T-zone).
Directions to use: Break the egg and separate the yolk from the egg white. Wash your face, pat it dry and apply a layer of the egg white on your skin. Then place a tissue paper over this layer of egg white mask. Press gently and apply the second layer of egg white over the tissue. You can continue to apply 3-4 layers, but make sure that each layer is dry before you proceed to apply the next layer. Then peel the tissue off and wash to remove the egg white face mask if it there are traces of it on your face. Pat dry your face and then use a moisturizer.
2. Use honey and milk pore strips
We all know organic raw honey and milk  are good for our skin. But did you know that milk and honey could be used to get rid of blackheads? Well, you can actually use milk and honey pore strips to get rid of blackheads on your skin. Honey is known for the anti bacterial and soothing properties while milk is rich in calcium and lactic acid, when you use the combination of honey and milk on your skin, it will work like magic.
Directions to use: In a bowl mix 1 tablespoon of honey with 1 teaspoon of milk. Heat this mixture for 5-10 seconds in the microwave. Take it out and then mix them properly. Let it cool for a while and then apply a thin layer of the honey and milk blend onto your skin. Pat a strip of cotton and let if dry for a while. After 15-20 minutes peel off the strip of cotton carefully. Rinse your face with cold water and then use a moisturizer.
3. Use cinnamon and honey strips
Honey has antioxidant, anti-fungal and anti-bacterial properties whereas Cinnamon helps in blood circulation and tightens your pore, nourishing your skin at the same time. Using this mixture on your skin will not only help you to get rid of blackheads but will also leave you with healthy glowing skin.
Directions to use: In a bowl mix a part of honey and cinnamon and blend it into a paste. Apply this blend on the affected area and the pat a cotton strip over it. Let the mixture sit on the affected are for 5 minutes. Remove the strip and wash your face with cold water and follow it with applying moisturizer on your skin.
4. Use lemon juice
Using toner on your skin will make tighten the pores, and since blackheads are caused by open and clogged pores using a toner on your skin will shrink your pres. Use lemon juice as it works as a natural astringent to shrink your pores. But if you have sensitive skin use it  only after diluting it.
Directions to use: Squeeze a lemon into a small bottle and use a cotton ball to take a little bit of the juice and apply it on the affected area. Do this regularly for a couple of times in a week before going to bed.  In the morning rinse your face with lukewarm water and then moisturize your face. You can store the lemon juice for upto a week in the refrigerator.
5. Try sweating it out
Sweating can still help minimize blackheads on your skin. So motivate yourself to work up enough sweat so that you will flush out everything that is clogging your pores. But then immedietly wash your face afterwards so that your pores don't get clogged by the sweat once again.
Directions to use: Start any kind of physical activity to work up enough sweat or use a sauna room. When you start sweating excessively, rinse your face with water and pat dry using a towel. Follow this up with a little bit of moisturizer.
6. Use baking soda 
Baking soda is a great exfoliating agent also it works wonders on balancing the pH value of your skin. So go ahead a use a little bit of this magic ingredient on your skin to get rig of clogged pores. But use baking soda carefully as it can strip all the oil and make your skin dry.
Directions to use: Use one part of baking soda and mix  it with water. The consistency of this should be a thick paste. Now gently use this paste and massage it into your skin in circular motion. Rinse your face with water and pat dry with a clean face towel. Use little bit of moisturizer on your face to that it is not dry.
7. Use sugar scrub
Exfoliation when done right without any kind of chemicals, it helps to get rid of black heads. So as to unclog your pores use brown or white sugar along with some oil on your skin. The sugar will work as an excellent exfoliator and the oil will nourish your skin. Using this mixture will leave you with a healthy glow and soft and supple skin.
Directions to use: Mix a cup of sugar with Mix 4 tablespoons of oil (jojoba oil/rapeseed/olive/sweet almond). Stir this mixture and stir it in a glass jar, or you can make a fresh batch every time you want to use it. Use this mixture on your face to by massaging it in circular motion and follow this by rinsing your face with water. But do this only twice a week, otherwise you will end up irritating your skin.
8. Use steam
Using steam does not help to get rid of blackheads, but it will reduce the appearance of them as it helps to soften the sebum that is clogging the pores on your face. This method is the most simple one, you can do it multiple times a week and you will be amazed at the end results.
Directions to use: Bring some water to boil and pour it in a bowl. Lean over it and cover your head with a towel. Do this for 5-10 minutes and you will realize that this method helps to open up your pores and loosen anything that is trapped in the pores. Once you are done, rinse your face with water and pat dry with a clean towel. Use a dollop of moisturizer to nourish your skin. 
9. Use apple cider vinegar and mint
You don't need to rely on toners that are available over the counter, because you can make your own toner. You can use apple cider vinegar and mint to make your own toner. The apple cider will work on your skin to help breakdown the stuff and the mint will tighten your skin. The mint will also help tame the inflammation on your skin while leaving you  with a cooling sensation.
Directions to use:
Combine 3 tablespoons of apple cider vinegar and 3 tablespoons of finely chopped mint in a small bottle. Leave this bottle for a week and let it sit in a cool dark place. After 1 week strain the liquid and add a cup of water to it. You can store this in the refrigerator for up to a week. After rinsing your face with water apply this on the affected area with the help of a cotton ball. Leave it overnight on your face and then rinse it off in the morning. Follow up with a moisturizer.