Moisturizing Oily Skin in Winters | Shahnaz Husain Tips
Beauty Expert, Shahnaz Husain shares best skin care hacks for girls with oily skin, especially in cold weather.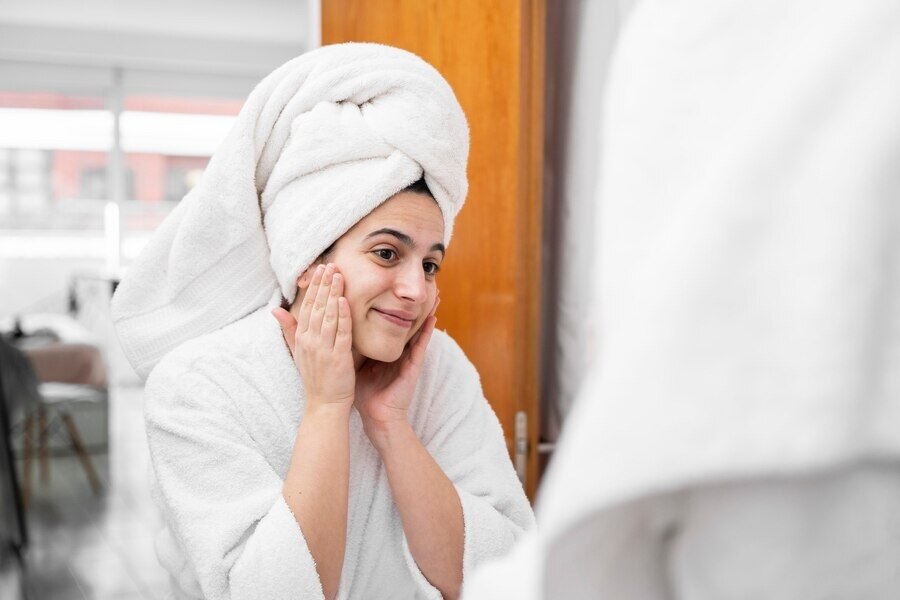 In winter, oily skins feel a superficial dryness of the outermost layer of the skin. There is a taut, uncomfortable feeling immediately after washing. Some areas of the skin may also acquire tiny white flakes. It is important to know that the skin absorbs moisture in the form of an emulsion of oil and water. It cannot absorb water or oil by itself. Therefore, the only way of dealing with the problem is to moisturize the skin and keep it soft.
Oily Skin Care Tips in Winter:
During the dry winter season, a light moisturizing lotion can be applied on oily skin. Add a drop or two of water before application, to provide a lighter coverage. Use a sunscreen gel for oily skin.
To apply a moisturizer, first cleanse or wash the face. Apply the moisturizer and work it into the skin smoothly and gently, using your fingertips. Wipe off the excess (if any) with tissues or moist cotton wool. Apply moisturizer immediately after washing or bathing, while the skin is still damp. This helps to seal in moisture.
You can also mix 100 ml Rose water with one teaspoon pure glycerin. Keep in an airtight bottle and use a little of this lotion to moisturize the skin. It moisturizes the skin without making it oily.
Honey is a powerful natural humectant. A humectant helps to attract moisture to the skin. Honey helps to make the skin soft and smoothens out rough areas. For oily skin, mix honey with egg white or lemon juice and apply on the skin daily, washing it off after 15 minutes with plain water. Both lemon juice and egg white have cleansing effects, reducing oiliness, while honey softens and nourishes the skin.
Aloe vera gel can also be applied. It is a powerful natural moisturizer and seals off loss of moisture. It also softens dead skin cells and helps their removal, leaving the skin smoother and brighter. Many people have aloe vera plants at home. The gel obtained from the plant itself is the leaf pulp, found in the inner portion of the leaves. The aloe juice is found just beneath the outer skin of the leaves. However, while using it directly on the skin at home, one should wash the plant well and observe total hygiene. The aloe vera gel or juice may be applied on the face and then washed off with plain water after 15 minutes